Title: The Rosebud Murders 23/45
Author: BmblBee
Rating: M for Mature language and m/m sex
Also warning for violence.
Disclaimer: I don't own any of the characters
or products named in this story
Paring: S/X
Summary: HAU
Spike is a Homicide detective trying
to stop a serial killer before he strikes
again. Xander is a psychic who offers
to help him.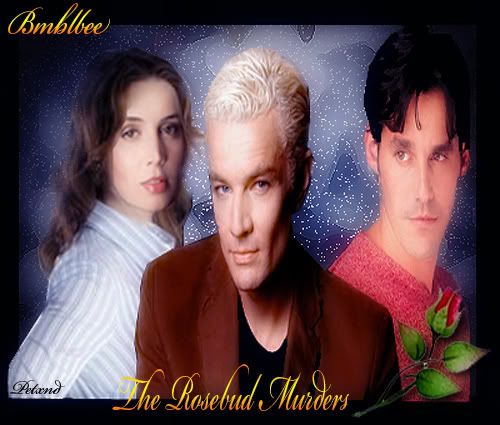 Thanks to the talented Petxnd for the banner and preread.
Spike sat in his office, coffee cup in one hand, pencil tapping the desk
in the other. It was early, before 7am and the privacy gave him time
to think about the uberwierdness that was quickly becoming his life.
The overhead light was off and his features were highlighted only
by the dim glow of the metal goose necked lamp that sat on his desk
and aimed it's beam on the scattered notes in front of him.
After the unsettling morning at the crime scene yesterday he had
taken Xander to lunch, fed him and then insisted he go home to rest.
He was starting to understand the boy's voracious appetite.
Between the abnormally high body temperature and the extreme
energy he witnessed him expend during a psychic reading, he
realized the young man's metabolism must burn like a blast furnace.
Even though Xander gave a weak refusal, Spike had dropped him off at
Divine Creations and told him they would talk later. Xander was wiped
out. He needed sleep.
The rest of Spike's day had been going over his notes from Xander's reading
and trying to concentrate on keeping his cock soft. Everything about Xander
filled his brain and body. He wanted him more than he had ever wanted
anything in his life.
He wanted to go to him, spend time with him, talk to him, laugh with him.
He wanted to exchange ideas and body fluids with him. He craved to
understand him, touch him and feel Xander's hot hands on his body.
'Fuck!' Spike admitted to himself
'I want to roll over and take every inch of him up the arse till we
both explode.'
Making sure he was alone, Spike murmured quietly, experimentally,
"I'm gay"
Surprisingly it didn't feel too foreign. He still couldn't believe Xander
had gotten him to admit it especially after knowing the boy for such a
short while.
Hell, he had never said it to anyone. Not even to Angel who had fucked
him at least a dozen times.
At the time, with him on his knees and Angel's dick pounding his prostate,
saying it would have seemed a bit redundant.
Besides, Angel always swore he wasn't gay and went out of his way to
fuck every female he came in contact with as proof. Married, single,
fat, skinny, old and young - sometimes too young - Angel fucked them all,
but he always came back to Spike.
Obviously Angel couldn't say the words either.
That was exactly why Spike always insisted on Angel using condoms, the
good ones, the expensive kind. Ribbed for Spike's pleasure.
Spike thought again about Xander and knew the message that was sent
to him was on target. There was no more Angel in Spike's life. Thank God.
"Fuck!" Spike shook his mental wanderings and tried to focus. He still had
a murder case to solve and if he was correct, three weeks left to do it before
the killer struck again.
"Hey, there you are. Where the fuck have you been? I thought we were
partners. I feel like you have abandoned me to work on this fucking case
alone. If I find out you are hiding out with some cheap slut, I'll........I'll.......
well I'm not sure what I'll do, but it won't be pretty."
Faith slammed the office door behind her and stomped into Spike's office.
She dropped down into the chair across the desk from him and waited
for the explanation, her arms crossed over her chest.
Spike looked her over and felt guilty as hell. He really had been a terrible
partner the last few days and her appearance startled him. Her usual neat
blouse and skirt were wrinkled and the bags under her eyes clearly showed
through the excessive makeup she had used to try to conceal them.
He was desperate to discuss this strange turn of events with her but not
sure how. Maybe, he thought, if he just dipped one foot in, eased up to
the ankle, and tested the waters, they might be doing the back stroke in
no time.
"Look, Faith, I'm really sorry. I actually have been working on the case
but just in a roundabout sort of way. I really want to talk to you about
it, but I need you to keep an open mind. Will you do that? Promise?"
Faith nodded warily, uncrossed her arms and leaned forward.
"Yea, I promise. At this point I would be willing to consider the killer
was a leprechaun flying in the windows on a wave of fairy dust. So
whatcha got?"
Spike took a deep breath. If ever there was, in the history of mankind, a
true "what the fuck" moment, this was it.
"Well, I met this young man. He has a certain talent for reading people,
understanding their emotions and motivations."
Faith's eyes lit up.
"A profiler? The department is kicking out the funds to hire a profiler?"
Spike felt encouraged.
"Yes. That is just what he is. No, this cheap arse department didn't approve
money for something that logical, this is a young man who sort of works on his own.
He approached me and I have been talking to him for a few days now.
I didn't want to say anything to you till I was sure his information might help."
Faith shook her head in an attempt to clear out the confusion.
"Free lance? You are working with somebody that just popped up out
of the blue and offered to help you solve the case of a serial killer by being
a free lance profiler? Spike, do you know how fucking stupid and
suspicious that sounds? Have you checked this guy out? Made sure
he has an alibi for the nights of the crimes?"
Spike cringed. Put like that it really did sound bad, unfortunately psychic
wood carver sounded a hell of a lot worse.
"Come on now. Open mind. You promised, remember? He is just very
intuitive. He is uncanny in his ability to read peoples motivations and I
really think he can help us understand the killer and why he is committing
these crimes."
Faith threw up her hands and slumped back in her chair.
"Fine. So what does Dr. Freud think is driving our boy to slaughter
these innocent women and then leave........FUCK! Spike, please tell
me you didn't discuss the you know what with him."
Spike looked offended. Still, he couldn't stop the shudder that ran
through his body when he remembered Xander smelling the roses.
Even though he had come to believe in the boy, this type of affirmation
was unnerving.
"No. Of course not. Geesh Faith, give me a little credit. Look, he just
has some insight into people like this and offered some ideas and maybe
a new direction we could look. It isn't like we are doing so great on our
own. I don't know about you, but I'm not so proud or arrogant to refuse
help, no matter where it comes from."
Faith had to admit he was right. What could it hurt to just listen?
Relieved, Spike continued.
"Xander thinks this might be personal. He suggested we look into this guy
being someone connected to one of us. At first I thought maybe it could be
somebody we arrested or came into contact with professionally but the
more I listened to him the more another idea started to form.
Listen, all of these girls were killed late at night. Even though they were
alone and didn't know the killer they were comfortable letting him
in their homes. Why the hell would they feel safe letting a stranger in?
When I read over your report from the last victim the neighbor said
the only ones he saw at her door were the cops and her boyfriend.
He said it in that order. He didn't say the boyfriend found the body
and then the cops showed up, he said....."
Faith's eyes got big and she slapped her hand over her mouth.
After a moments hesitation she leaned in and whispered.
"You think the killer is a cop? Holy Fuck, Spike!"