Head Of The Class
3/35
Author: BmblBee
Paring: S/X HAU
Rating: Adult NC-17
Warning: Contains very adult content. Strong language
and sexual activity of the m/m nature.
Disclaimer: I tried to buy them but they apparently
aren't for sale so I own none of the products or characters
named in this story and make no money from it.

Summary: Kindergarten teacher Xander meets porn star Spike.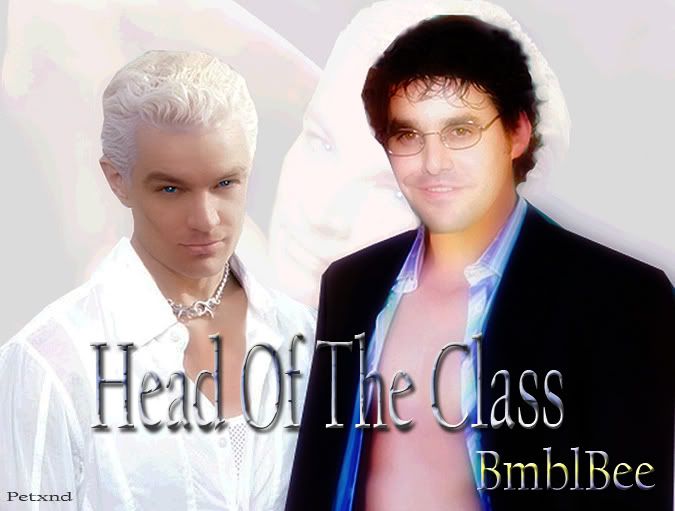 Thanks to the wonderful Petxnd for the banner and plot suggestions.


The teacher's lounge. A place of hidden grownup secrets and regal
authority. A mysterious place where decisions that could affect your
life and future were made daily. At least that's what Xander thought
when he was a student back in the day.

A time when he just couldn't get out of school and start on a real life
soon enough. He never would have guessed that his true calling and
happiness would lead him right back to the very place he couldn't wait
to escape.

He was a bit early when he entered the lounge, but he had a paper cup
of strong black coffee and knew the donuts would have been delivered
by the predawn bakery service.

It was a luxury only afforded three times during the school year to soften
the torment of parent teacher conference day.

Once settled in with his chocolate covered cream stick, Xander laid his
briefcase on the table and began digging for his student progress charts.
He had back to back meetings scheduled and needed to be able to
transition smoothly from one to the next.

As expected, the illustrious principal of Sunnydale Elementary was
the next to arrive. Dressed in an immaculate three piece suit, he was
the epitome of what a world leader would look like.
"Why, good morning Mr. Harris. Aren't you here nice and early.
Are you well prepared for your conferences?"

Xander smiled at the stuffy, older Englishman.
"Yes, Mr. Giles, I do believe I am, however, to tell you the truth, I really
don't see any problems. With the exception of just one boy, all the
children are well exceeding the expectations of the kindergarten criteria."

Giles nodded affably as he peered into the pastry box, wrinkling his
nose in superior disgust. Xander smirked. He knew before the hour
was out, Giles would have ignored his cholesterol concerns and devoured
at least two cinnamon twists.

"Who do we love? Who do we hale? Come on gang, it's Sunnydale!!"

The lounge door had burst open and the rattling, shaking colorful
pom poms signaled the girls gym teacher/ cheer leading coach's
entrance.

Giles flipped his morning New York Times up in front of his face,
effectively ignoring the bouncing, bubbling blond with the wildly
swaying ponytail.

"Morning Buffy. I take it you are using today for extra cheer leading
practice?"

Buffy rushed over to sit as near the handsome kindergarten teacher as
possible, her frilly, flouncy skirt flipped, barely inches below her panty
area. She had done everything possible to send the unmistakable signals
of 'interested' and 'available' that she could but just didn't seem to be
making any headway.

Still, she was determined. Buffy always got what Buffy wanted and
what Buffy wanted was Xander Harris.

"Morning Xan. Yeah, not many parents schedule conferences with a
gym teacher so my squad is going to get in some practice time.
You know next weekend is the last game of the midget football season.
It's the big one with St. Joe's. Can't let those bingo players beat us.
You gonna be there to cheer us on?"

Xander leaned away from her brash flirting and mentally cringed
at the catholic reference.

"Oh, um, not sure. That is the day after our big Thanksgiving program
and I will have a lot of clean up to do. Donut?"
Xander shoved the box toward her.

Glancing in quickly, she shook her head.
"Yogurt. Don't be silly, school will be shut down for nearly a week
for the holiday. You can come in anytime and do that. Besides, that's
what we have a janitor for. Saaaay. That reminds me. What ARE
you doing for Thanksgiving? I fix a mean turkey and we could......"

"Morning everyone"

Thrilled and relieved for the distraction, Xander immediately turned
his attention to the newcomer.

"Anya. Hey, how is our favorite 5th grade teacher this morning?"

Anya frowned at the sudden attention. She had been chasing the
dark haired teacher for months and had never had so much as a
by your leave. Now this. Still, never one to look a gift horse in
the mouth, she marched over and sat down across from him.

"I'm the ONLY 5th grade teacher, however, I'm fine. Thank you
for finally asking. Now that we are moving forward, the next step
would, of course, be a first date. Now, I believe it is too soon
for a dinner and sleep over but maybe a nice lunch. A salad
perhaps and........"

"Hey! Xan and I were just finalizing our plans for Thanksgiving!"
The two blonds squinted and stared off at each other.

"Morning all."

Xander leapt to his feet and rushed to the safety of the 6th grade
teacher and sometimes wrestling coach.
"Riley. Hey, man. How's it going?"

Giles turned the page despite the fact that he hadn't read a single
word. He used the distraction of the room to snag another
cinnamon twist and smiled as he enjoyed the soap opera that
played out around him.

"Oh, good. It's good. So, is everyone ready to face the snarling
hoards today?"
Riley grabbed a maple roll while Anya and Buffy continued to
glare at each other.

Xander slapped his thighs and roared as though that was the funniest
thing he had ever heard. He then grabbed another jelly filled pastry
and ran for the door, nearly knocking down the quiet, blond that
was on her way in.

"Oops, Sorry. Mornin' Tara. Um, Miss McClay. See ya.
Everybody have a nice day."

In a whoosh, he was gone.

Giles chuckled, mumbling, "Nice save."

Xander grinned, proud of himself for the well executed escape and whistled
as he made his way down the hall toward his classroom.
Beginning at 9am, he had 4, 15 minute conferences set up. It was
fairly cut and dried. He would show off the child's art work to the proud
parents, discuss the strengths and areas that needs to be worked on and
then hustle them happily out the door and the next ones in.

It was a pattern he had perfected and repeated each trimester for the past
five school terms since he had come to Sunnydale. It was his dream job.
He had known the first day he entered the university that he wanted to teach
kindergarten.

Few men had the patience for such young children, but Xander adored them.
Their young eager minds were so trusting and untainted. They all held such
promise and he considered it a privilege to guide them through the first
steps of their education.

Unlocking his classroom door, he immediately jerked on the window
shades allowing them to snap and roll up flooding the room with light.
He took a minute to pick up one or two stray toys that had been
left out and check the back coat room for forgotten sweaters.

The walls were an explosion of color and design as they were covered
with bright, imaginative drawings of turkeys, tables of food and
stick figures of Indians and Pilgrims.

He took a few minutes to just survey his world and he smiled.