Head Of The Class
28/35
Author: BmblBee
Paring: S/X HAU
Rating: Adult
Warning: Contains very adult content. Strong language
and sexual activity of the m/m nature.
Disclaimer: I tried to buy them but they apparently
aren't for sale so I own none of the products or characters
named in this story and make no money from it.

Summary: Kindergarten teacher Xander meets porn star Spike.

Additional notes: Along with the wonderful banner, a big thanks
to the brilliant Petxnd who encouraged me and offered plot
suggestions.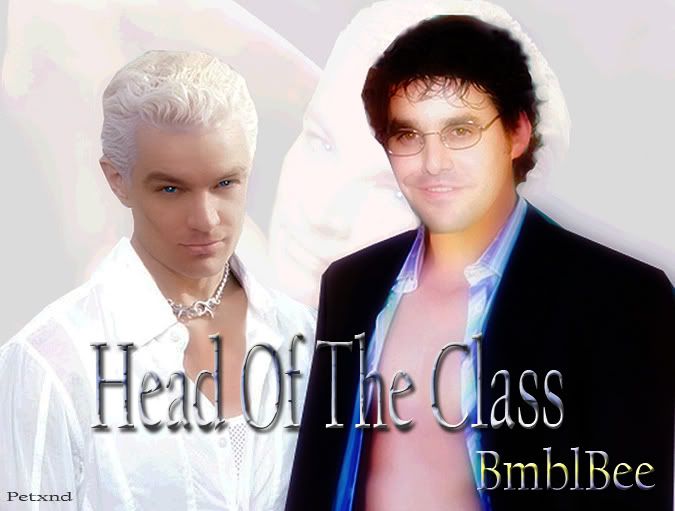 Xander began to speak.

"Good Evening. Thank you so much for coming. Tomorrow is Thanksgiving.
A special time for all of us to give thanks for all the blessings we have,
the people in our lives that we care for and that care for us. As we begin
the hectic hustle and bustle of the up coming Holiday seasons, both
Christmas and Chanukah, we need to stop and remember this day. This
is what counts. Love, family, and always taking time to give thanks.
So, without further ado, I present to you the very first Thanksgiving."

Xander waved his arm and the curtain went up. Everyone was in their
places. 16 bright, beaming hopeful faces grinned as the spotlight first
shone on the nature scene of trees swaying and turkeys running around,
flapping their colorful wings.
The first group of parents began snapping pictures that would, for years
to come, adorn the family photo albums.


Will stood off to the side, out of sight. When Xander had stepped out
on to the stage, he felt his heart jump in his throat. The way the spotlight
lit up his face, the twinkle in his eye, the sincere broad smile of his lips, it
all hit Will harder than he expected.

He remembered when that beautiful man looked at him like that as they
lay, face to face, in Will's soft, warm bed. His nostrils flaired, trying to
draw in the wonderful scent of his skin, sweat and aftershave.
Everyone of Will's five senses had a Xander memory of it's own.

A lesser man might have cried.

Will was not a lesser man, at least not till he got home, later.

The production was short, by theatrical standards. A quick play of less
than 15 minutes that brought the house down with it's Oscar quality acting,
lines, and staging. There were no missed steps, no flubbed lines and,
thanks to Will's direction, no parent felt shortchanged.

It received a standing ovation.

The after play party in the classroom was jubilant. The cookies flew off the
platters like feathers in the wind and the punch flowed like champagne.
Even the smallest victories were celebrated. Jimmy's mother was
delighted that he hadn't wet himself in his tree costume and Betsy's
parents were satisfied that, after weeks of rehearsal, she skillfully and
flawlessly executed her line of "Look, here come the Indians bearing corn!"

The evening was perfect.
Almost.

Xander didn't want to appear too pathetic, so he worked the room, speaking
to as many parents as possible before finally approaching the redhead with
the bouncing white haired boy.

"Miss Rosenburg. It's nice to get a chance to talk to you. Scotty is
doing much bet...."
"Can it mister. Scotty, why don't you go collect the pictures you made
to take home. I would like to talk to your teacher for a minute."

"Rowwwr!"
Scotty immediately took off as though shot out of a cannon, swinging his
cardboard tommy hawk at Betsy, who obligingly screamed and ran around
the desks in the room. None of the parents took notice.

Xander watched the green eyes flash and wondered what he could have done
to spark a lightning storm like that. Willow crossed her arms and lowered
her voice.
"I know all about you and Will."

A horrified expression looked back at her as Xander's eyes darted all around
to assure himself that no other ears were aimed in their direction.

"What? No. Will? Will who?"
"Oh, please, give me a break. Now listen here, Will is a great guy and you
broke his heart. I don't care what he does for a living, at least he doesn't
pretend to be something he isn't"

The implication was clear and Xander dropped his eyes.

"Is he o.k? Is that why he didn't come here tonight?"

When she saw the pain in his eyes, Willow softened.
"Yeah. He didn't want the drama between the two of you to rain on
the kid's parade. How do YOU feel, Mr. Harris? Do you miss him too
or was this just a fling for you? Are you one of those lay'em and play'em
type of guys?"

Xander's head snapped up, this time it was brown eyes that filled with
fire.
"NO! That is NOT me. I care about Will. I care ALOT about him. It's
just so complicated."

Willow sighed at the stupidity that was mankind.
"It's only complicated when you make it that way. When you are honest
about your life, you will be surprised how simple things suddenly get.
I recently found that out myself. I'm an alcoholic and a drug addict, Mr. Harris.
I pretended for a long time that I wasn't. I did terrible things when I was
high and always blamed other people. The only constant through the years
was Will. He was our strength and our rock. He supported us and protected
us. You may be a good teacher, Mr. Harris, but Will is a good man."

Xander was bowled over. It was almost too much to process and the
din of activity around him faded away as the words hit their mark.

"You're right. Will is the better man. I miss him terribly. I'm not sure
how this will work out, but I'd appreciate if you told him that."

Willow smiled and nodded.
"I'll tell him."

Xander shuffled his feet nervously.
"Miss Rosenberg, I'm sorry to ask, but out of concern for Scotty, I need to know.
Are you getting help for your addiction? Are you in treatment?"

Willow grinned, almost glad for the chance to talk about it.
"Yes. I leave for a 30 day in-house program in 10 days. It has taken Will years
of coaxing, but I had to wait till I was ready, and now I am."

"That's great! I am so glad for you. Does Scotty have grandparents he can stay
with?"

Willow looked slightly confused.
"My parents live back in Salt Lake and cut me loose years ago. Besides,
why would he go there? He will stay with his father, of course."

For Xander, it was a perplexing answer. Scotty had never spoken of his
father and Xander had always assumed he was one of the many MIA
dads that seem so prevalent in today's society.

"Oh, of course. Who..."

Before they could talk further, several of the other parents who had waited
patiently for their chance at the teacher, finally stepped in.

"Excuse me, Mr. Harris, we need to go, but we just wanted to thank you
for all you have done."

Willow interrupted before Xander could respond to the proud parents.
"That's fine. Mr. Harris and I were finished. Besides, I need to get my little
Indian chief home and in bed. Will you think about our conversation,
Mr. Harris?"

Xander shook her hand warmly.
"Yes, Miss Rosenburg, I believe you have given me quite a bit to think about."