Head Of The Class
30/35
Author: BmblBee
Paring: S/X HAU
Rating: Adult
Warning: Contains very adult content. Strong language
and sexual activity of the m/m nature.
Disclaimer: I tried to buy them but they apparently
aren't for sale so I own none of the products or characters
named in this story and make no money from it.

Summary: Kindergarten teacher Xander meets porn star Spike.

Additional notes: Along with the wonderful banner, a big thanks
to the brilliant Petxnd who encouraged me and offered plot
suggestions.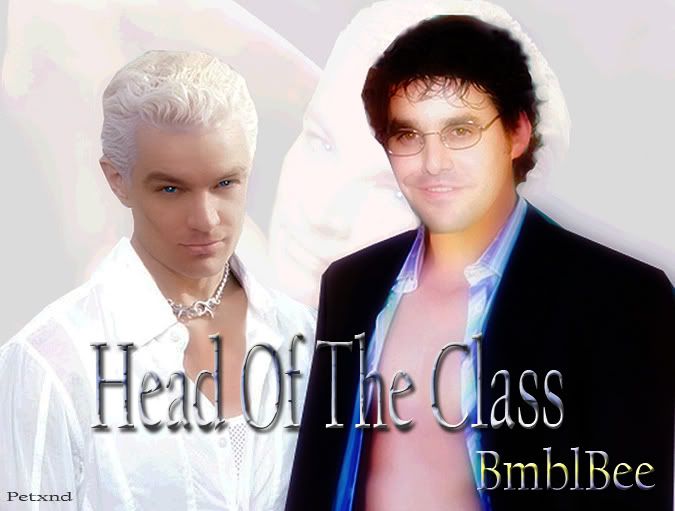 Xander paced nervously. He had arrived at the school building early in
order to speak to the principal, Mr. Giles, before the rest of the school
came alive with Monday morning activity.

Although, the thought had crossed his mind that when the school day
started, it might be without him. Today could possibly by the day that
his dream came to an end. No more teaching, no more students, no
more reason to get up in the morning.

It was terrifying. He had wondered, more than once over the long
week end, if he was making a major mistake. Hiding wasn't so hard.
Lying wasn't that bad, except that, as he taught his kids, it was. How
could he stand in front of his group of eager, trusting minds and talk
ethics when he himself was a hypocrite?

Xander took one long look around his beloved classroom and wondered
if it would be his last. He then turned and walked out, down the hallway
and directly to the office of the principal of Sunnydale Elementary.

Before he could again start a round of 'should I, shouldn't I' he raised his
hand and knocked.

"Yes? Come in."

Xander complied and stepped in.
"Good morning Mr. Giles, may I have a moment please?"
"Mr. Harris, yes of course come in, come in. Before you begin, I must
congratulate you. The Kindergarten class play was the hit of the
Thanksgiving program. It was brilliant, simply brilliant. You have no
idea how many of the parents are prepared to annoint your feet with oil."

Giles good nature and praise helped put Xander at ease, but he knew
what he was about to say could flip that mood like a light switch.

"Thanks. The kids worked really hard on it and did their best.
I'm very proud of them. You know being a kindergarten teacher
is very important to me, Sir."

Giles's smile disappeared and he sat up straight in his chair.
"Ah, well, that sounds very ominous. Perhaps you should close
the door to give us some privacy and have a seat."

Xander did as he was told. The feeling in the pit of his stomach was
very much, 'sent to the principal's office'. He didn't like it when he
was a student here years ago, and he didn't like it now.

"Mr. Giles, I realize that what I am about to say may cost me a job that
I love dearly but I really have to get it off my chest."
"All right."

"Mr. Giles, I'm gay."

His statement was met with total silence. The look on Giles face was
impossible to read and Xander briefly wondered if he played poker
or maybe was just in a state of shock.

"Mr. Giles?"
"Oh, sorry, I was waiting for more. Um, that's it? You're gay?"
"Well, yeah."

Giles visibly relaxed. He had imagined all sorts of terrible things that
could cost him the best teacher this school had ever had.

"Mr. Harris, Xander. May I call you Xander?"

Xander nodded and the older man continued.

"Xander, please don't take offense but we have all known, or at
least assumed that you were gay from the day you were hired."

Xander frowned, an odd combination of confused and concerned.
"Really? Do I swish? I know I don't swish. Why would you think I
was gay? Do the parents think I'm gay?"

"I think most of them do, but frankly they wouldn't care if you were
a little green man from Mars considering the miracles you work with their
children. As for the faculty's conclusions, I believe they were due to the
fact that you are very attractive, single, unattached, clean, and excellent
with children."
"But Buffy. She's always....."
"Ah, yes, Miss Summers. I dare say our enthusiastic gym teacher likes
a challenge and you present one that she could throw her whole.....
heart into."

Xander was stumped. This hadn't gone at all the way he had anticipated.
There was no outrage. No threats. No calling of security to escort him
out. It was almost a let down.

"So, that's it?"

Giles replaced his glasses back on his face, a signal that he had returned
to Principal mode and he picked up his morning report.

"Yes, Mr. Harris, I do believe that completes our talk. Now you may want
to hurry, your students should be arriving soon."

Xander leapt to his feet, a smile spread across his face and relief rushed
through his body.
"Yes, Sir. Thank you Sir."
And he was gone. Giles looked up at the closed door and grinned.
Gay or straight, he liked Xander Harris.

Xander hurried to his class room and the first of the group, still
bouncing from their theatrical success, bounded in.

The rest of the morning zipped by. Numbers, art and reading and
music down, it was time for morning rest and Xander had one
other thing on his mind.

He waited patiently while everyone spread out their mats, bickered
over their spot and kicked off their shoes.
"Scotty, I think it's your turn to help with the snack. Could you come
up please?"

Scotty jumped up. It was the grand honor of kindergarten to be asked
to prepare the snack. He took it very seriously.
He paused a moment to stick his tongue out at Betsy then ran forward
to the teacher's desk. It was not a complicated job, but it was an
important one. The assistant lined up 16 milk cartons and 16 foil
packs of graham crackers. All under the scrutiny of Mr. Harris.

Xander smiled as he watched the boy do his best. He set up a
carton then took the time to adjust it's angle and straighten the line.
When he was almost finished, Xander spoke, keeping his voice
low and careful. He was very concerned that this vulnerable young
boy was going to cared for by a father he didn't know.

"You are doing an excellent job, Scotty. Very good."

Scotty beamed with pride and continued. So did Xander.

"Scotty, your Mom told me she is going on a short trip. Are you
o.k. with that?"
"Yep. Mom doesn't feel good a lot and they are gonna make her
all better."
"Hey, that's great. So, um, who are you going to stay with?
Do you know him?"

Scotty's face lit up both with pride as he finished the last of the
snacks and with excitement about his upcoming move.

"Yeah, I'm staying with my Uncle Will, of course. He loves me a lot
and always makes sure my face is washed and he makes me brush
my teeth a gazillion times a day. I even gots my own room at his place
wif a daybed and a clothes drawers. I bet you didn't know that a
daybed is for night sleeping. Ain't that silly? Mr. Harris? You o.k?
You look kinda funny."