HARD TIME
7/47
Author: BmblBee
Paring: Spander (of course)
Rating: NC-17
Warnings: Bad language and explicit sexual m/m activity.
Summary: Xander is wrongly convicted of murder and sent
to Riverview Correctional Institution where Spike is a guard.
Disclaimer: I own none of the characters or products named in
this story and sadly, make no profit.
AS 3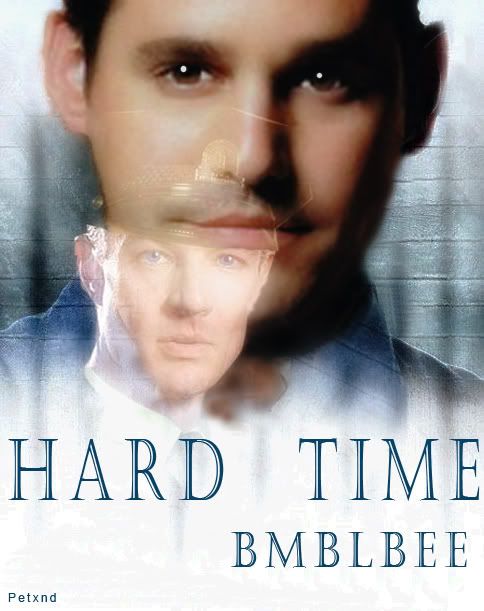 Thanks to the amaxing Petxnd for the banner.


Oz laid on his top bunk, hands behind his head and watched silently as
his cell mate paced back and forth. Both men were dressed in their white,
state issued boxers and were ready for bed.
It had been a very interesting afternoon.

He had patiently lost three hands of spades till Xander had caught
on to the card game and been able to hold his own. He had clued
his cellmate in to the fact that you had to raise your hand and wait for
permission before using the communal bathroom and he had watched
Xander's back as the unit lined up for the nighttime lock down.
His celly seemed totally oblivious to the dangers of the jungle around him.

Oz was glad the man had left his cell and had finally joined the rest
of the population, but he couldn't help but wonder what had inspired
the transformation. Not that he would ask. Didn't need to. He had learned
long ago that you could find the answer to any question through silent
observation. So he waited. He could see from Xander's restlessness
that the reason would make itself evident.

"What time do you think it is? I hate not knowing what time it is."

Oz just shrugged in answer.
"Dunno. Does it matter? You got a bus to catch?"

Xander chose to ignore the sarcasm. He walked back to his cell
door and tried to peer out the 6 inch wide piece of plexiglass despite
knowing the only view he had was of the cell door directly across
the hallway.

"No, I just wondered."

Before Oz could wonder what he was fussing about, the intercom system
in the cells blared with C.O. Lehane's voice announcing:

"TEN MINUTES TO LIGHTS OUT, GENTLEMEN. TEN MINUTES."

Oz rolled over on his side and watched his celly sit down on his bunk.
He waited to see if the tears would start. Selfishly he kind of hoped they
would.

Oz had spent years off and on in lock up and knew that next to the sex,
the hardest thing to deal with was the lack of physical touch.
No human being can exist without the touch of another and stay sane.

Finally, when Xander had given up all hope, the door buzzed and
popped open. He jumped to his feet as the C.O. entered.
"Did you think I had forgotten?"

Xander positively beamed at the sight of the handsome Officer Pratt
with the chocolate bar in his hand.
"No. Well, yeah. Wow, thanks."

Spike laughed.
"No problem, Pet. You did good today. Now, when I come in
tomorrow afternoon, I expect to see you out there in the dayroom
with everyone else."

"Do I get another candy bar if I do?"

Spike just rolled his eyes and chuckled as he closed the cell door.
Oz continued to watch without comment. Five minutes later when
everything went dark, he hopped down and Xander quickly scooted
over, making room.

Tonight, instead of facing the wall, Xander laid on his side, his head
propped up on his hand and even in the dark, Oz could see the big
grin on his face.
"What do you think about him?"

Oz sighed. He did not like where he knew this was going.
"I DON'T think about him."
"But he's nice. Don't you think he's nice? Nobody else cared
if I lived or died and he did."

Oz pulled the rough, scratchy blanket up to his waist.
"Xander. He's a screw."
"A what?"
"A cop. A guard. A C.O. Xander, it's them on one side and us
on the other. Don't ever make the mistake of thinking it isn't.
He got you out of this cell because if you off yourself he loses
his job. Period. Don't go thinking there is more to it than that."

Xander frowned. The cell was dark but he could see Oz's eyes and
knew there was no malice there, only his perceived truth.
Xander flopped over and Oz automatically cuddled up. With his
face toward the wall, Xander popped a square of the chocolate
in his mouth and handed a piece over his shoulder which Oz took
silently.

"How come the other inmates call him Spike instead of Mr. Pratt?'

Oz licked the candy from his fingers and waited to see if another
piece would be offered.
"Some are like that. Last place I was locked up in, you got thrown
in solitary if you called them by their name. Said it was disrespect.
Place before that, they all wanted to play that buddy buddy shit.
You got to be adaptable to survive, Xan. That means look and listen
before you do something stupid."

Xander carefully folded the wrapper down around the rest of his
candy bar, saving it for the next day.
"I still wish we could know what time it was."

Oz realized there would be no more chocolate coming his way so he
wrapped his arm around Xander's waist.

"When you get assigned to a unit in general pop you can have your family
send you a radio or even a television but you gotta be careful."
"Of what?"
"Of strong armers. You don't get nothing you aren't prepared to fight for.
And I'll tell you something else. Don't never borrow anything. Somebody
here will offer you candy, hygiene or cigarettes and act like they are your
friend but they aren't. They will tax you to death and you will never be
able to pay them back. You need something you ain't got, you either
get it from the outs or you do without."

Xander listened to all the advice Oz was giving him and he could feel
his good mood quickly sliding away. There was so much to learn,
so many dangerous twists and turns. This was not the life he wanted to
live.

Finally, with a yawn, Xander whispered in the dark.
"Hey, Oz.?"
"Yeah?"
"If you hate it here, how come you keep getting locked up?"

Oz snorted a puff of warm air against the back of his cellmate's neck.
"Damn if I know. Guess I haven't figured out how not to."