HARD TIME
25/47
Author: BmblBee
Paring: Spander (of course)
Rating: NC-17
Warnings: Bad language and explicit sexual m/m activity.
Summary: Xander is wrongly convicted of murder and sent
to Riverview Correctional Institution where Spike is a guard.
Disclaimer: I own none of the characters or products named in
this story and sadly, make no profit.
AS 4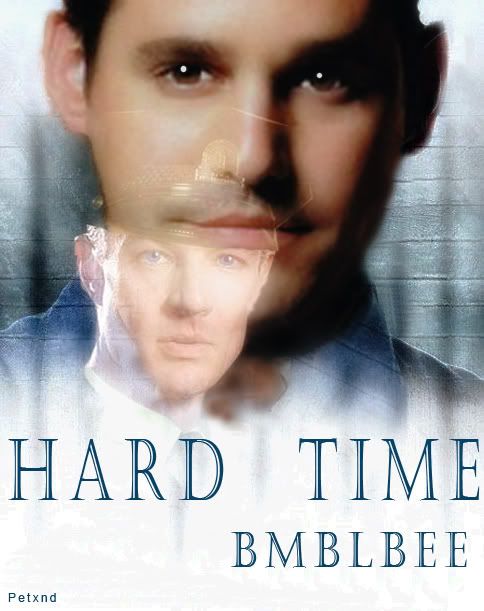 Thanks to the amazing Petxnd for the banner.



The sun finally started to dip down toward the late day horizon, promising to
bring a smidgen of relief from the unrelenting, scorching heat that had baked the
small, open, rental jeep and it's driver for the last two days of this miserable trip.

Wesley tipped up his water bottle and gulped the last swallow before tossing
it to land in a pile if like empties on the floor of the back seat. If he hadn't
checked and rechecked his driving instructions, one's he personally
reasearched and printed from mapquest, he would have sworn he had taken
a wrong turn.

He couldn't imagine how anyone could inhabit such a barren, seared land.
There was no green grass, no trees, no rich furtile earth. There was only sand
and dry, parched dirt. Miles and miles of it, made to seem even longer by the
fact that the land was so totally flat, and expansive.

Wesley had come to the United States as a teenager with his family. His
mother, father, aunt, uncle and his cousin Will. They had all decided to
immigrate, hoping for the chance of a better life, leaving behind the small
factories of rural England and provide their sons the opportinity at a good
education that would ensure an excellent future.

Wesley, as always, did just what was expected of him. He followed his
families instruction, selected a career and a college he knew they would
approve of and excelled. He completed law school early and passed the
bar exam on the first try.

He was, of course, the pride of his family.
From the moment he was born, on the exact predicted day, Wesley has
had a driving need to please. To accomplish what his parents, especially
his father, asked of him.

And he had travelled.
He had seen and wondered at all the beauty and diversity that was this huge
expansive country. He had skied in the snow of the North West and shopped
the small fishing villages of New England. He had been to Florida for spring
break and gambled, conservatively of course, in Las Vegas, but this, this
couldn't possibly be part of the same country he had adopted as his own.

The desert heat was unbelievable. It was causing Wesley to perspire profusly,
soaking his shirt and giving his crotch a damp, sticky, itchy feeling that
he would pay a million dollars for the chance to wash off.

The low rent motel where he spent last night should have been a hint as
to what his day would be like, but he failed to pick up on all the clues.
Things like the fact that the airconditioning in the room was broken and
that the on site restaurant served only burritos, tacos and refried beans.

If he hadn't been so confident of the reliability of his maps, Wesley would
have thought he had already crossed over south of the border.

The small towns he passed through showed no signs of the American dream.
They were scruffy, small villages full of Mexicans who slipped over, legally or
not, in search of a better way of life. What they found was more of what
they had left.

There were no jobs, no gold lined streets, no big houses and no open arms
welcoming them as the sign on the bottom of the statue of liberty promised.
The bitch lied.

In response, they revert to the life they knew best, constructing small villages
exactly like the ones they had left behind. The result was a series of
towns that mirrored their homes, sometimes even with the same names
as in the case of Naco.
It was a scant 20 miles from it's twin, Naco, Mexico.

With a sigh of relief, he recognized the town sign, despite the fact that it
had been shot full of holes and hung, swinging, from it's post and missing
the top bolt that would have held it upright.

NACO, ARIZONA.
POPULATION 358

'Well', Wesley thought, 'shouldn't be hard to find one Americano trying
to hide out in a small village of hispanics'.
He turned the wheel of his rented jeep and drove slowly down what passed
for the main street of town. Although he wasn't sure in the absence of
any concrete or blacktop, if this could tecniquely be called a street.

Slowing down, he noticed a sign on a pole that announced:
CASA DEL DIABLO

'Oh, brilliant,' Wesley thought, 'a bar named house of the devil. This
promises to be a place of joy and frivolity.'

As soon as he parked and stepped out of the jeep, Wes was immediately
surrounded by a dozen small Mexican children, all with their hands out,
begging for coins in a language he didn't fully understand, although pesos
and por favor were easily translated.

He resisted the urge to look into the dirty, hungry faces. He knew if he did,
if he gave even one of them a nickle, he would instantly be swamped by
children and adults alike. He might as well wear a sign that screamed,
"Easy mark. Stupid American tourist."

Instead, he took a moment to slap some of the three inch thick layer of
road dust from his shirt and pants, and he pushed open the swinging cafe
doors and stepped inside.

Taking a minute to look around, Wesley nearly burst out laughing. It was
the exact replica of a thousand cantinas that he had seen in countless
Hollywood movies.

In fact, his favorite movie of all time, Desperado, could have been filmed here.
It had everything. A dark, dirty interior, made even dimmer by the crust
that covered the front glass windows, several round wooden tables containing
bottles and shot glasses, and a long wooden bar that had too many bullet
holes to count.

And exactly as they do it in the films, right on schedule, all the actors and
extras sitting around the room, stopped talking and stared as the stranger
stepped over the threshold.

Wesley was absolutly thrilled. The surge of fear and adrenelin that washed
through his body was something brand new. The simple knowledge that his
very life could be snuffed out at any time and no one in the outside world
would ever know what happened to him, left him feeling more alive than he
had ever known.

He had no experience in this alternate universe, but knew that everyone was
waiting to see what he would do next. They would guage their action on his.
Immediately, Wesley channeled Antonio Banderas. He hadn't bought the
movie in blue ray for nothing.

Glancing around the room, he held his head high, gave a snort, a twitch of his
back, and a pat to his side pocket as though something dangerous were
hidden there.
He now wished there were.