HARD TIME
29/47
Author: BmblBee
Paring: Spander (of course)
Rating: NC-17
Warnings: Bad language and explicit sexual m/m activity.
Summary: Xander is wrongly convicted of murder and sent
to Riverview Correctional Institution where Spike is a guard.
Disclaimer: I own none of the characters or products named in
this story and sadly, make no profit.
AS 4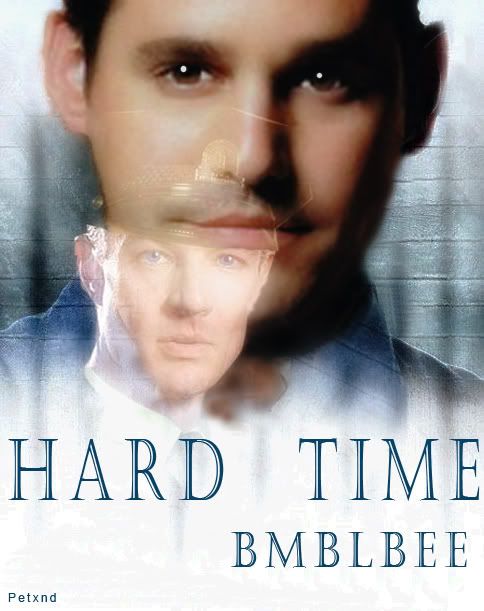 Thanks to the amazing Petxnd for the banner.



Angel sat on the side of his bed wearing nothing but his tighty whities. His
arms slumped limply at his sides, his feet dragged on the floor and his cock,
despite not being stroked in two days, hung shriveled and sad between his legs.

He hated the thought of dressing and going to work. He was easily having
the worst week he had known in the last five years and there was little
hope today would be any better.

Rupert Giles had gotten him where it hurt. Those two fucking, ignorant
trouble makers that were put on his precious housing unit had needed
less than two days to cause total chaos.

They had muscled a dozen bags of chips, cookies, and soda bottles
from his weakest inmates and were now running store from their cell.
They had claimed the television remote and Angel hadn't seen Oprah
in days. They had to be showered alone to stop the grab assing and
chow movement was a constant shuffle of the other cons passing
their food to the newcomers out of fear and debt.

Angel was beginning to think he was working in a prison!

"Bullshit! This is fucking bullshit! Giles will NOT ruin this for me.
I know what he's doing and it stops today!"

With a renewed vigor, Angel jumped to his feet and snatched up his argyle
socks, the ones with the penguins because it was Friday, and he jerked
them on his well lotioned and manicured feet. He suddenly felt better
than he had all week. Fucking Rupert Giles was going to move those
troublemakers off his unit... today!

An evil smile curled the corners of Angel's lips as he considered his
position. He had nearly forgotten that he held the straight flush in this
game of cards and he knew exactly what threat to use. There was no
bluff. Giles was holding a pair of two's and it was time for Angel to
go all in and claim the pot.
Today was the day for the worm to do his turning!


Spike wandered from the bedroom to the living room. He had a hot
mug of Earl Grey in his hand and his eye on the computer. Last night ,
before going to bed, he had connected is cell phone to the exterior
port, running it through the scanner and finally to the printer.
Now, he waited.

His mother used to tell him that a watched pot never boils. He wondered
if that translated into a watched cell phone never rings.
Apparently, it did.

After speaking to Wesley, he had gotten up this morning with the hope
that Wes would be able to find this man who had murdered Xander's friend,
written him the letter and hidden out from the law in a small town dangerously
close to the border.

Wes was of the opinion that it was someone Xander knew. Drug dealers
and murderers seldom used their real names. They always adopted
a street name that made it difficult or nearly impossible for law enforcement
to ascertain their true identity, giving them time to get away.
Which was apparently what Warren had done.

Yet, the whole tone of the note was personal. It was sent to 'Xander',
not to 'Alexander Harris', or even just 'Harris'. Obviously, someone his
Xander knew had a secret identity and a life that a person as innocent as
Xander would not recognize.

Even so, Wes and Spike both knew there was nothing Wes could do
right now other than watch the man. There was no evidence that anyone
but Xander had been on the beach the night Jesse died, but if Wes
could put a real name to him, maybe they could build a case, complete
with opportunity and motive, and include it all in Xander's appeal for
a new trial. A new, viable suspect would add a ton of weight to their case.

The important thing was to make sure Warren did not know he was
being watched. Mexico was a scant few miles away and once over
the border and out of the country, their chances of getting their hands
on Warren was slim to none.
Like a greased pig at the county fair, he would be impossible to hold.

Spike stopped and for the tenth time, checked to make sure that, yes, his
phone was charged and the computer as well as the printer were on line and
working fine.
"Damn it, Wes, where the fuck are you?"

Knowing he couldn't delay any longer unless he wanted to be late for work,
Spike sat down his tea cup and reluctantly headed for the shower. His
uniform was laid out neatly on his bed and time was running.


Giles had trouble controlling the big grin that covered his face. His desk was
stacked up with paperwork and ordinarily, this time of year would have him
pulling his hair out. More than one Warden across the state had lost their job
as the result of a negative rating during the accreditation and auditing period.

But, Giles wasn't worried. His institution ran extremely well. It was fairly
clean, he had a low number of violent incidents and very few correctional
officers collecting workers compensation money, and with the State,
that's what it was all about.
The bottom line.
Money.

Giles could relate to that because he felt the same way and he wasn't
about to let his bank account or bottom line suffer. This time of testing
with Buffy and Liam fucking O'Connor was a sort of auditing process.
It was a time of bargaining. Check and check mate.

He did regret that this situation with his step daughter had arisen now, but
he had carefully considered all angles and was certain that with the good
previous year Riverview had, along with his personal friendship with
Ethan Rayne, the State's representative, Giles was confident that, if handled
correctly, he could survive one major incident.

He had moved those two thugs onto Liam's housing unit, seemingly to
aggravate him. Little did Liam suspect the truth. Although Giles did have
to admit, he thought the C.O. would call him before now and demand their
removal. Possibly C.O. O'Connor had bigger balls than Giles had imagined.
Maybe that's what Buffy saw in him.

He all but laughed out loud at supper last night when Buffy got in to her
sweat pants and slouchy tee right after dinner. When he asked about her
evening plans, she had complained that "Angel is being a real poo poo head.
He is no fun and won't, um, play, ya know?"

Unfortunately, Giles knew.
Although the mental picture was an ugly one, it thrilled him beyond belief
to think that maybe the man was having such a hard time at work, that he was
having a very soft time on his off hours.
It was confirmation that his point was being received.

Checking the clock on his wall, he knew the afternoon shift would be
arriving in less than an hour for roll call. He was positive today was the day.
He could feel it in his bony little arthritic toes and the joy of it had him
polishing the lens of his glasses in delicious anticipation.


30 minutes.
Spike hustled to jerk his uniform pants on, tie his shoes and buckle the
thick, leather utility belt around his trim waist. He had just a few more minutes
before he had to run out the door or risk missing roll call. He was tempted
to kick the computer out of frustration, but knew that wouldn't accomplish
anything good.

Really, he told himself, one more day wouldn't matter. It didn't mean
that Wes had failed, it just meant that he couldn't get the shot just yet.
Maybe Warren wasn't where Wes thought he would be. Hell, knowing
Wes, maybe the small town had a day spa and Wes was getting a massage.

Immediately, Spike felt guilty for even thinking such a thing. Wes was
doing them a hell of a favor and Spike owed his beloved cousin big time.
With one last wistful glance at his desk, Spike turned and reached for the
front door to leave.

At the last minute, the phone rang. The scanner hummed and the printer
snapped to life.