Title: Wishes and Wants.
13/23

Author: BmblBee
Paring: S/X
Rating: Very NC17!
Disclaimer: I own none of the characters, products or articles
mentioned in this story and gain no monetary profit from it.

Willow and Buffy are feeling guilty about their fake gift and are concerned
they haven't heard from Xander in days. When they check on him, they
find him with Spike. In shock, they decide to do a real spell to give their
friend his hearts desire, hoping he will dump Spike.

Warning: This story is a pointless, spornographic bit of fantasy, fluff and
sex. The author does NOT endorse the bizarre sexual techniques or
situations this story contains. (O.k., some of them are......never mind)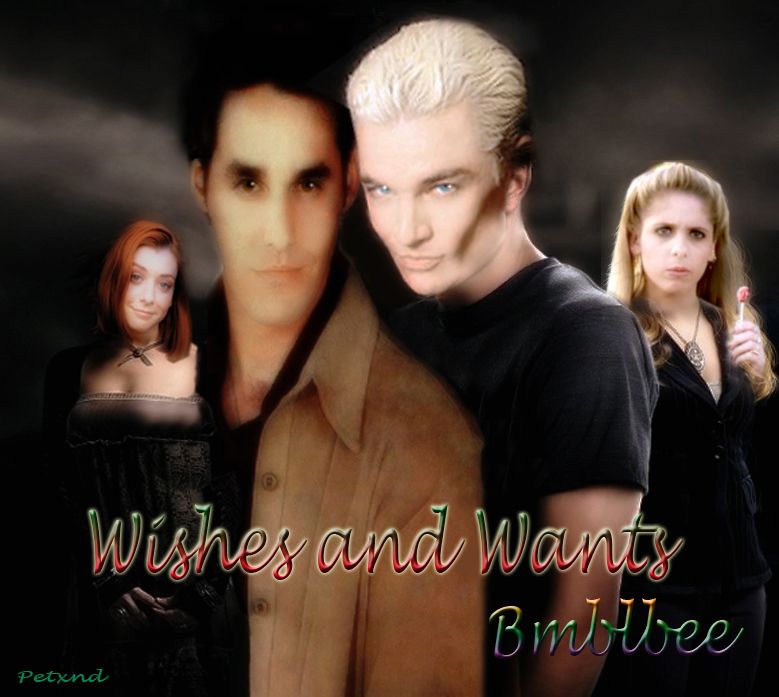 As always, full credit to the talented Petxnd who puts wonderful visuals to
my words and brings the stories alive.


Spike trotted along happily, side by side with the Xander/Dorthy he he had
fallen in love with. The whole bizarreness of the situation should have
been very off putting, but instead, it only added to the growing respect he
had for Xander's sense of adventure and imagination.

It boded well for their future together.

Still, here they were, a vampire/cowardly lion, and a Xander faced
teenaged girl travelling together down a seemingly endless yellow brick
road to.....where? Spike decided it was time for a bit of conversation
to pass the time and perhaps establish some understanding.

"So, Pet, you have a Wizard kink, do ya?"

Xander tossed his head from side to side as he walked, enjoying the feel
of the long soft pony tails as they swished against the side of his now
stubbly, unshaven face and brushed across his bare shoulders.

"Um, not so much. See I figure we are here for several reasons. When
Willow and I were little, every year when the Wizard was on t.v., we used
to pop corn, snuggle on the couch and watch it together. We knew the
dialog, word for word, and would say it with them. Willow would do
all the witch and girl parts and I was everyone else. I love the Wizard, Spike."

Spike's whiskers twitched with amusement at the sincerity in his lover's
voice over the shared confidence.

"So Red was just giving you your favorite story? O.k., but how about
me? Why am I the lion? You don't see me as cowardly do you?"

Xander stopped and dropped his basket at his feet. He turned with a
lecherous smile and dug his fingernails into the thick coat of fur that covered
his vampire, head to toe. Spike's skin tingled with delight.

"Hell, no. You are the bravest, sexiest, most wonderful lion I have ever
known. I think you are the lion because what else would you be?"

As he spoke, Xander continued to pet and caress the long, silky coat of hair.
Spike's tail whipped around his legs with wild snaps. His pointy ears
laid flat back on his head and the little tuft of white blond hair sprang
straight up in a mock erection. A deep growly purr vibrated from his
entire body.

Xander grinned and continued.
"You couldn't be the scarecrow because he was way too flammable. You
couldn't be the tin man because with all that spunk flying around you would
rust up in no time. What fun would that be? So, that leaves, what?
A munchkin? Eeewwww! I'm thinking....NO!"

Even Spike, who was fairly willing to go with any sexual proposal,
had to flinch on that one. It did, however bring up the eternal question
of whether or not munchkins were proportionately correct.

The more he thought about it, the more the question intrigued him.
"Say, Pet, you don't suppose the Lollypop Guild has......"
"No, Spike, they have tiny pee pees."

For some reason, Spike was disappointed. It wasn't that he actually wanted
to fuck one of the little buggers, it just seemed like such a waste of a
photo opportunity.

Xander snapped his fingers on the lions face, startling him out of his mental
wanderings.
"Spike! Hey, you in there? Snap out of it. We still got a long way to go."

Spike's slitted, cat eyes refocused on the here and now.
"Oh, sure, right. Actually that's the point, innit? Why we're here and where
we are going. The big question, though, is how the fuck do we get back
home before the sun comes up and I turn into one french fried feline."

Xander beamed, hooking his arm with his lion lover and again collecting
the basket.

"It's obvious. We keep going down the yellow brick road till we find the
Wizard. He will tell us how to get home. Boy, Spike, you don't know
much about your fairy tales do you?"

Spike had to concede that, no, he didn't.
So, the walk as well as the conversation resumed.

"Mind another question, Love?"

Xander watched how the nipples on his small perky boobs bounced with
each step. He was certain that in a side by side comparison, he would
beat Buffy hands down.

"Sure. Shoot."

Spike was also watching the mesmerizing nips and he licked his chops.

"Well, that explains why this scenario and even covers the puzzle of
me being a reject of the demon zoo dimension, but it doesn't explain
why you are a chit. You have a touch of pussy envy, Love?"

Even in the dark of the night, Spike could see the deep blush that covered
Xander's face and smell the change in his physiology. The rush of hot
blood surging so near the surface of the human's skin caused a surge
of need and desire to slam through Spike's furry, animal crotch.

"Oh, Love, do tell."

Xander glanced at the man/beast beside him. Surprisingly, he found he
trusted Spike. Despite his being an evil, conniving, murdering, rude demon,
Xander trusted him with his heart and soul. And after all, no one
was perfect.

"Promise you won't laugh?"

Spike struggled not to squeal with excitement as he rubbed his paws
together. Considering all the things his pet had led them through tonight,
Spike had a sneaking suspicion that this one was about to be the best.

In answering, his voice cracked pubescently.
"Why, no, Love. I would never laugh at anything you wanted to tell
me in confidence. So, spill. Why the snatch?"

Xander took a deep breath, kept his eyes focused on the brick road
ahead and began to speak.

"Well, you know I was with Anya for several months."

Spike snarled at the sound of HER name on his boy's lips. Xander
grinned happily.

"Down, boy. So, anyway, one of the things A....um, SHE liked, was
watching porn. Lots of porn. Hour after hour of nonstop bumping,
grinding, humping and sucking. After a while it got rather redundant."

Spike nodded his agreement. There was only so much film fucking you
could watch before your dick gave out and the boredom started to take over.

"Besides, by then I was starting to realize that I would rather watch two men
go at it instead of a mix of uglies. Still, one thing was starting to bother me.
During every one of these movies, as soon as the man shoved his cock in,
the women went wild. Screaming, kicking, slobbering and twitching like
a fart in a skillet. Kinda gave me pause. I mean, it makes you wonder what
we are missing. Is sex really that much better on their end of the stick?"

Understanding lit up Spike like the Antarctic dawn after 6 months of darkness.

His boy wanted to be fucked like a woman.

Spike stopped dead in his tracks. He threw his arms up in the air in the
sign of a touchdown and he whooped.

"YES!!"