Title: Carnivale Mystique
4/42
Author: BmblBee
Rating: NC17
Paring: S/X
Disclaimer: I own none of the characters or products named in this
story and make no profit from it.

Summary: A mysterious carnival appears on the outskirts of Sunnydale.
Despite the sudden disappearance of townspeople and pets, Xander is
intrigued and wants a closer look. What he gets is more than he could
have imagined.

This story is based on a suggested story idea from the lovely Mystic Oblivion.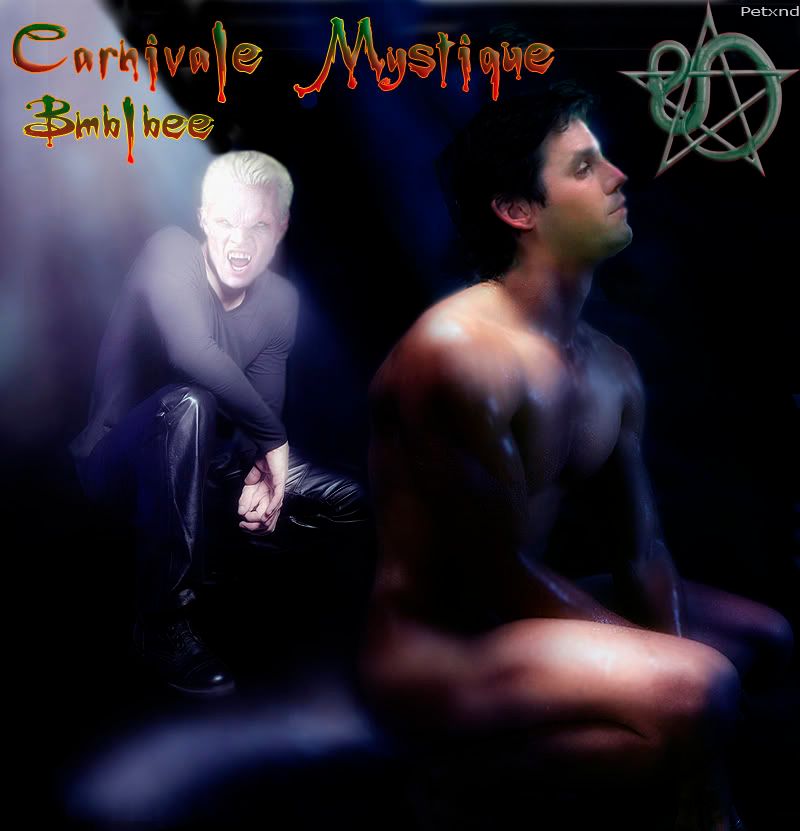 As always, thanks to the wonderful Petxnd for the banners that put the perfect
visual to my words.


"XAAAAANNDERRRRR"

Xander stopped his pacing and cringed. With his fists balled up he
went to the foot of the steps and shouted back.

"WHAT?"

Satisfied that she had finally gotten his attention, Jessica stuck her
head in the basement doorway and whined.

"Can't you eat just a little bit? It's my ham casserole. I made extra
cause I know you like it."

Before Xander had a chance to respond, his father's voice boomed from
the living room where Xander knew he was planted on the sofa in front
of whatever game was on the television.

"It's fucking SPAM, not ham, you stupid bitch. Nobody likes your fucking
Spam slop in a pot casserole, Jessica, so leave the fucking boy alone."

As expected, his mother immediately went into victim mode. It was
an argument Xander had heard so many times, he could mouth her
part along with her. With his hands on his hips and his head flopping
from side to side, he lip synced perfectly.

"Well, I do my best on the little bit of money you give me to run this
house and feed a growing boy. No one understands or appreciates
how hard it is for me. My life is no picnic you know. Stuck in this house
all day. All alone. No one to talk to."

Xander waited. The ball was lobbed to his father and the sarcasm
machine should be ready to switch on.

"Well forgive me, my dear. Tell you what, you want something to do?
Bring me a fucking beer and I'll appreciate the fuck out of you. Oh, and
while you are at it, run down to the Red Onion. You can discuss current
events with the waitress while she fixes you a pizza and some wings to
bring home. My fucking ass can't take another spell of the Spam shits."

Xander had to chuckle. The old man did have a way with words.
Besides that, it solved his problems too. If she knew her son had plans,
there would be no peace until he spilled all. Jessica Harris could interrogate
a suspect better than Heratio what-his-name on CSI any day of the week.

He could hear his mother grumble and stomp around as she put on her
slippers and sweater for the trip. He waited, figuring he could slip out the
door before she got back and avoid her third degree.

It was only 7 and although they had agreed to meet at 8, Xander had been
showered, shaved, masturbated, (twice) and dressed for two hours.
He felt as twitchy as a roped calf waiting his turn for the branding iron.

The excitement and anticipation of the unknown was sparking through
his body like electricity. His heart was pounding and his scalp was
damp with perspiration.
Xander knew if he didn't get out of the house now, the top of his head
may just explode.

Creeping up the steps, Xander listened as the front door slammed.
He heard his father's responding belch and "bitch" and knew his mother
was gone. He counted to ten to make sure she wouldn't come stumbling
back, having forgotten her purse, her keys, or her fucking brain, then he
entered the upper level of the Harris mansion.

With the last $20 of his birthday money tucked safely in his pants pocket,
Xander made a mad dash for the front door. Through the kitchen, around
the dinning room and into the living room. His greatest obstacle was the
fact that he had to cut between the old man and his view of the television
in order to reach the escape hatch.

He took a deep breath. Only a few more steps and, in Xander's favor,
Tony Harris had, so far, shone no indication that he even knew his son
was upstairs. Or alive. Xander assumed that meant Pops had money on
whatever team was now getting their asses kicked and he would slip by
unnoticed.

Xander made it! He reached for the door knob and elation filled his
body with hope. When.......

"Where the fuck you think you're going all dressed up.?"

Xander froze. His brain conjured up a dozen scathing, cutting replies.
Comments that would put the old fucker in his place. Responses that
would let Tony know that Xander was no longer a frightened child that
could be beaten into submission. In fact, Xander, thought, this just might
be the time. The night when I pull out a Glock and blow his fucking
ass right off that disgusting, flowered, stained sofa.

Xander spun around and looked his father in the eye.
"Out. I was just going out."
His voice came out small and it made him sick to his stomach to think
Tony Harris still held the upper hand and probably always would.

Tony's hands dropped to his lap, crumpling the racing form he had
been studying. His suspicion and concentration was now on the odd sight
in front of him.
"Out? Out where? Speak up, boy. You got money?"

"Just out. Nowhere special. I'm going to hang out with Jesse and Willow
for a while."

Tony glanced between the racing form and the boy that was now blocking
his view of the Pittsburgh Steelers and the Dallas Cowboys. Immediately,
through Harris intuition, Xander knew what was bubbling in the old man's
brain.

"Sorry, Pop, no money. I'm broke. Willow said she would float me
a couple bucks for a burger. Look, I gotta go. I was supposed to meet
them down at the mall by 7."

Tony leered.
"Willow, huh. I always knew that little redhead wanted her some Harris
meat in her bun and since she know's I'm married, guess she is willing
to take on the second string."

Tony Harris barked out a laugh that shot a snot bubble from his hairy nose
and Xander tried not to respond to the new level of horrifying disgust his
father had just achieved.

Still, denial would just spur the old questions of why a son of the great
Tony Harris wasn't out there banging pussies left and right and the fact
is, right now, Xander didn't want to engage in any conversations.
He just wanted out.

He chuckled weakly and turned the knob in his hand behind his back.
"Nay, I think she just wants a burger and a new pair of shoes. She
just wanted me and Jesse to go along and keep her company."

Tony scowled. The boy wasn't bad looking. After all, he had the Harris
nose and Tony's dark eyes. He just needed some good advice on how to
get started. That's all he needed. Once he got a taste of snatch, Tony
knew he would be hooked.

Tony took a big swallow of beer then wiped his mouth on his sleeve.
"Look here, boy. Next time you are sitting next to that Willow girl, you
just slip a hand up her skirt and slide your finger into her pussy. Girls love
that shit and she will get so hot she'll climb on and ride you like a bucking
fuckin' bronco. Guaran-fuckin'-teed."

Xander was speechless. The old fucker had just won the gold in the
Olympics game of Nasty Fucking Dirty Old Man. The crowd was on
their feet, cheering and waving placards all with the number #10 on them.

"Thank's, Pop. I'll remember that. Well, I'm late. I gotta go. Tell Mom
I'm sorry I missed her casserole."

Xander quickly darted out before Tony could bestow any more pearls of
wisdom on him. Tony Harris tipped his beer can in the boy's direction
before returning his attention to the screen.

"Glad I could help."