Title: Carnivale Mystique
23/42
Author: BmblBee
Rating: NC17
Paring: S/X
Disclaimer: I own none of the characters or products named in this
story and make no profit from it.

Summary: A mysterious carnival appears on the outskirts of Sunnydale.
Despite the sudden disappearance of townspeople and pets, Xander is
intrigued and wants a closer look. What he gets is more than he could
have imagined.

This story is based on a suggested story idea from the lovely Mystic Oblivion.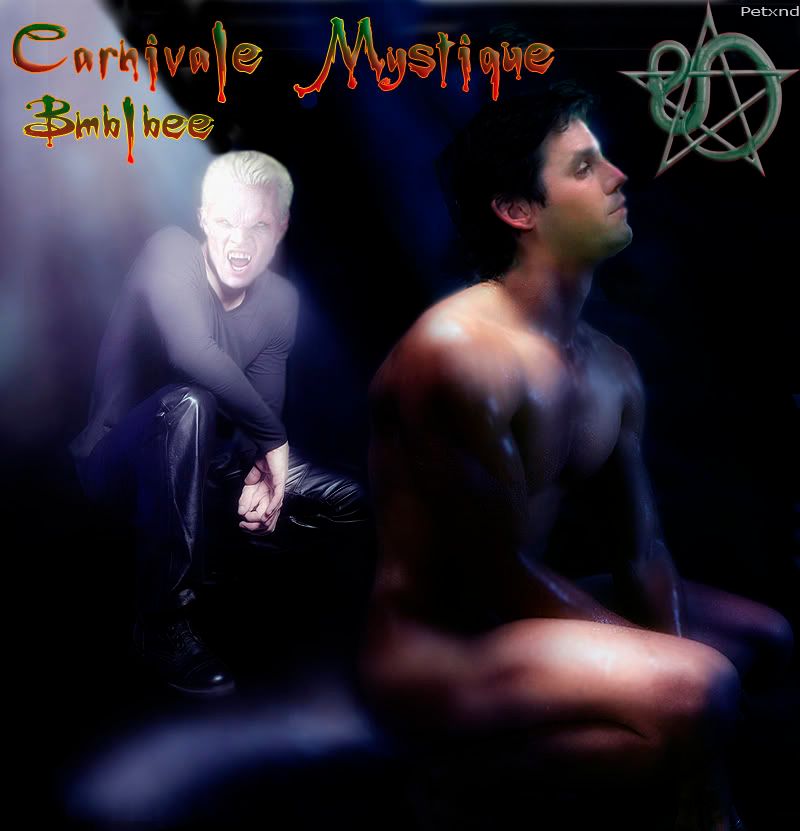 As always, thanks to the wonderful Petxnd for the banners that put the perfect
visual to my words.


Spike crouched down on one knee and watched as the shaky human
hands slowly pushed up the window pane. Leaning forward, his face was
now just inches from Xander's. Reaching out, Spike placed his palm
against the invisible barrier that separated them.

Xander gasp. He was again stunned by the beauty, the glow, the soft,
innocent illumination of the man's face. Everything he had read tonight spoke
of the vicious cruelty of a vampire. The soulless, unemotional slaughter as
they killed and fed and one word appeared again and again. Blood.

Gazing into the hypnotic blue eyes, Xander knew everything he had read
was right. He was a gazelle. Spike was the panther. He guessed
sometimes panthers purred too.

"Ask me in, Xander."
The soft voice was that of a lover begging entrance after a squabble.

Xander took a step back. He knew, for now, he was safe. As long as the
words did not leave his lips, he was safe. Still, Spike didn't look or sound
dangerous. Maybe.......While the little people in Xander's brain continued to
debate, his mouth acted on it's own.

"Come in, Spike."

Immediately, with a speed and catlike grace not humanly possible, the black
clad vampire leapt through the open window and silently landed on his feet.
Xander was too startled to move. His heart pounded against his ribcage and
his mouth gaped in attempt to scream. In a flash, Spike's hand snapped forward
and his fingers clamped around the human's throat cutting off both sound and air.

"Shhhhh. Now, now, Pet. That wouldn't be a good idea. You make a
fuss, your family rushes to your aid and I may just have to eat them. You
wouldn't want that would you?"

Xander frowned. Would he? No, he conceded. No, of course not.
He shook his head. A minuscule movement. All he could manage with the
claw still clamped at his neck. Calmly, Spike smiled and removed his hands.
He then began moving around the damp basement, sniffing and snorting in disgust.

"Doesn't appear your living arrangements are much better than mine at present."

Xander just blinked.
"What do you want? Are you here to kill me?"

Spike dramatically threw a hand to his chest.
"You wound me, Pet. Have I done anything to cause you pain? Have I in
any way injured you? No. In fact haven't you enjoyed two very pleasant
orgasms at my expense?"

Xander gave that some thought. It was true. Yet.....

"I know what you are."
Xander bravely whispered.

Spike walked over and flopped down on the fold out bed, patting the empty
space beside him invitingly. Xander made no move.

"What do you know, Xander? What do you think I am?"

Xander took a deep breath and walked around the side, the bottom, and
circled to the other side of the bed, never taking his eyes off the creature
in front of him. The word had spent hours in his brain but never a second on
his tongue. He wasn't sure it would fit in his mouth. He wasn't sure he wanted
to try. Finally, he stopped. He paused. He opened his mouth and he spoke.

"Vampire. You are a vampire."

Spike tipped his head back, he closed his eyes and he hissed.
With his fingers ghosting down the front of his body, he pressed his hand against
a very obvious erection and he moaned as though Xander had just said the
most erotic thing he had ever heard.

"Yesssssss. Fuck, that sounds so bloody good. Say it again."

Despite himself, Xander took a step closer. His body felt fevered, flushed
and confused. His vocal cords had no connection to his brain. Now, when
he said it, the word had force and conviction.

"Vampire"

This time the declaration illicited a different response. Spike's eyes opened and
his stare pierced Xander's. The hand that had been borderline masturbating the
huge bulge in his black denims, now reached for the boy at his side.

Xander's ability to think shut down. Something he had read earlier tonight about
a 'thrall' skittered in the corner of his mind like an unwanted mouse and, like
all previous rodents in his basement, he chose to ignore it.

Cautiously, he knelt on the bed. When he was within reach, Spike grabbed
him painfully by the upper arm and he jerked the boy down beside him.
This time Spike's voice was firm and insistive.

"Undress yourself. I want to see what I'm getting."

With fumbling fingers, Xander did as he was told while that mental mouse
screamed at him "What the fuck, Xander?"

He pulled off his shirt and, without being told again, started on the button and
zipper of his jeans. He knew he should be refusing. He should throw this
intruder out. He should call for help. Oddly, the only thought in his head was
a prayer that his thick, hard erection wouldn't disappoint.

Apparently it didn't as Spike wrapped his cool fingers around it, weighing
and measuring as though counting the teeth on a horse he was about to buy.

"Now me."

This time Xander move more quickly and confidently. He scooted himself
around on the bed as though undressing the vampire was the most important
task he had ever been given. When finished, he gasp. The quick glimpses
he had seen earlier did not prepare him for the glorious sight of the unearthly
creature before him. Xander's hand shot out, eager to touch the pale, glowing
expanse of naked skin.

In a flash, Spike gripped the boys wrist, stopping him.
"You will learn to ask permission, Boy."

With an inhuman strength and speed, Spike shoved Xander flat on his back and
he jumped on him, grinding his thick, moist erection down against Xander's.
In shock, Xander stared at the erotic sight of the two cocks rubbing, dripping
and pressing against each other. He thought he may cum from looking alone.

"Oh, fuck! I've never.....Oh, God...... shit that's good."

Spike continued to rock, pressing himself, humping, moving his hips as their
cocks dribbled, easing the slide towards heaven, all the time whispering in
the human's subconscious.

"You belong to me Xander. I've been waiting for you and I have come
to collect what is mine. Soon. Very soon. I will claim you and you will
know what it is to belong."

The words buzzed in Xander's ear but they had no meaning. Every nerve
in his body was centered on his cock as he frantically chased the rush
of hot need that he knew would soon crash through him. His only answer
was a steady stream of whines and moans. Within minutes, he felt a flood
of cool fluid pool onto his stomach and his own cock reacted, mixing streams
of hot living seed with the cold dead one.

Before his body had time to float back to reality, Xander felt Spikes hand
brush over his eyes, closing his eyelids.

"Sleep, Xander. Sleeeeeeep. When the sun goes down again, you will
come to me."

Obediently, Xander fell into a deep, dreamless sleep.