Title: Writer's Block
12/23
Author: BmblBee
Rating: NC17 overall.
Paring: Spike/Xander
Disclaimer: The Bee owns nothing. Certainly not the characters or products
mentioned in this story and unfortunately, the Bee makes no profit from it.

Summary: This story is a light hearted comedy/mystery.

It is based slightly (very slightly) on the plot of the old movie
"House Of Long Shadows". It is an HUA that tells the story of a very successful
mystery writer, Alexander Harris, who is suffering from a severe case of writer's
block. Against his better judgement, he accepts a $10,000.00 bet with his
publisher after claiming he can crank out a full manuscript in a 24 hour period. This
short story is his struggle to do that and the bizarre obstacles that pop up.

Warnings: Sexual dialogue and M/M slashy acts.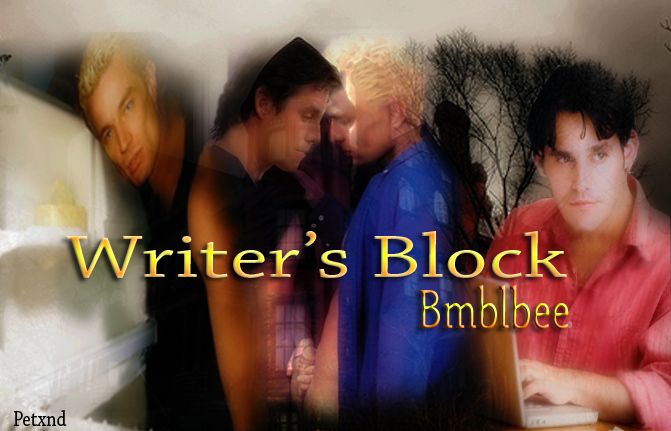 As always, special thanks to the amazing Petxnd for her wonderful banners.


Xander slumped.

He slouched back in the stained and spattered chair with his limp, smiling dick
still hanging out and his wrinkled nut sack resting on the cool leather between his
legs. He was, in fact, so mellow that when the low rumbling hum of the generator
purred outside and the desk lamp sprang to light, he just grinned and nodded.

He couldn't believe how naughty his blond scamp had proven to be. Sneaking
in and giving him an earth shattering blow job in the dark was something every
young gay boy fantasies about. Fuck, it's what every twenty something gay
mystery writer dreams of too.

He looked down at his spent member and knew he should be tucking it away
but there is a certain period of time immediately after a dick has had the skin
nearly sucked off it that it is just too sensitive to be manhandled. No, after
the happiness little Xander had just experienced, he deserved a moment of
contemplation. So, Xander closed his eyes, grinned and leaned his head back.

Suddenly the library door flew open and a very perky and totally unrecognizable
redhead stuck her face in. Her sporty bib overalls should have been a clue to
her identity. It wasn't.

"Hi there. Come on. The power's on and we put on a pot of coffee."

"ACK!"

Xander immediately began scrambling, trying to conceal and recage his rascally
trouser snake. Said snake just snickered and flopped in his hands refusing to
cooperate. Xander's face flushed beat red in guilt and embarrassment. He knew
even with the huge desk in front of him, it was more than obvious what was happening.

Unfortunately, his jeans were still down around his knees and far enough that the
rapid tug and twist on them resulted in the hems of the pant legs catching under the
wheels of the chair. Frantically, Xander bent forward, clutching and pulling desperately
on the fabric trying to dislodged it. When that didn't work and when the unfamiliar
woman looked like she might be coming in, Xander gave one last all out jerk on the
jeans using all the strength he had.

When he did, the two front wheels spun and flipped straight up, knocking him back
in the chair and causing his weight to toppled him off balance and the chair to tip over
backwards. The back of his head cracked on the floor and his feet dangled straight
in the air.

Willow flew in to the room and peered over the desk toward the crumpled man
on the floor.

"Oh my God! Are you o.k?"

Xander laid flat and prayed the floor would open up and swallow him.

He was Xander Harris.

It didn't.

So, he did the next best thing. He ignored the fact that he was lying on the
floor with his legs up, his pants down and his bare ass, limp dick and nuts
basking in the renewed glow of the bright desk lamp.

He introduced himself.

"Oh, I'm fine. It's late and I was just taking a bit of a rest. Please excuse
me if I don't shake your hand. So, I'm Xander and you are....?"

The redhead smiled as though a half naked man was exactly what she
expected to find in the Rayne library.

"Well, hi there, Xander. I'm Willow. I'm the mechanic from town. I actually
came to fix Buffy's car but it's a good thing I got here when I did. That Spike
fellow thought the generator had run out of gas, but when we checked it someone
had pulled a couple wires out. Strange. Why would anyone do such a thing?
But, anyway, I had everything we needed to fix it in the back of my pick up. So,
he and I did some puttering and PRESTO we have light."

Willow waved her arms dramatically as though she had just pulled a rabbit
out of a hat. Xander frowned. Something about that account was disturbing.

"So, the two of you were out there together all the time?"

Willow tipped her head thoughtfully.

"No, he came in to update the others and then I came in for a drink of water
but anyway, it's fixed and that's all that counts right?"

Xander scratched his bare stomach idly. He then realized that Willow was
making no move to leave. She was standing, grinning like a loon and staring
at him. Finally, she sighed and put her hands on her hips.

"Well, I can see that you have your hands full, but if you are finished with that
little project of yours, I brought fresh water and coffee from town. Spike says
you have to stay up tonight and work so we fixed a pot. Interested?"

Xander cleared his throat and he tried to sound professional.

"Um, well, I really should be concentrating on this manuscript. I mean I am on
a roll here and should stick with it, but, yeah, I could use some coffee to keep
me sharp."

"Great!"

Willow bounced and clapped her hands but still made no obvious move to
leave the room. Finally, Xander sighed.

"I, ah, might need a minute here. Why don't you go on ahead and I will join
you all in the kitchen in just a couple minutes."

Willow's eyes darted down to the dick who rested in poetic repose, and then
back up to Xander's slack face.

"Oh, sure thing. See ya there."

Willow spun around on her heels, her thick red hair flipping over her shoulder
and she disappeared. When Xander heard the quiet 'click' of the library door,
he rolled to the side and flopped out of the chair. He grunted, wrestled his
jeans up tucked himself in and stood up straight.

Part of him wanted to die of humiliation. Part considered running out the back
door and going home. Much to his surprise, he did neither. With his head held
high and the 'Don't Worry Be Happy' tune running a loop through his brain,
Xander headed to the kitchen for a cup of coffee.