Title: HOPE HOUSE
6/46
Author: BmblBee
Paring: Primarily S/X with a very minor S/OCs.
Rating: NC17 Adult Reading
Disclaimer: The Bee has no claim on any of the characters or
products named in this story and receives no profit from anything.
Warnings: Adult language, Prostitution, Violence, strong sexual
content. NOTE: All the boys working in Hope House are over
the age of 18. The Bee does not do underage!

Summary: Long after the final battle of Sunnydale, Xander is
alone, his life in shambles. Is there anywhere he can go and anyone
who can give him hope? There just might be.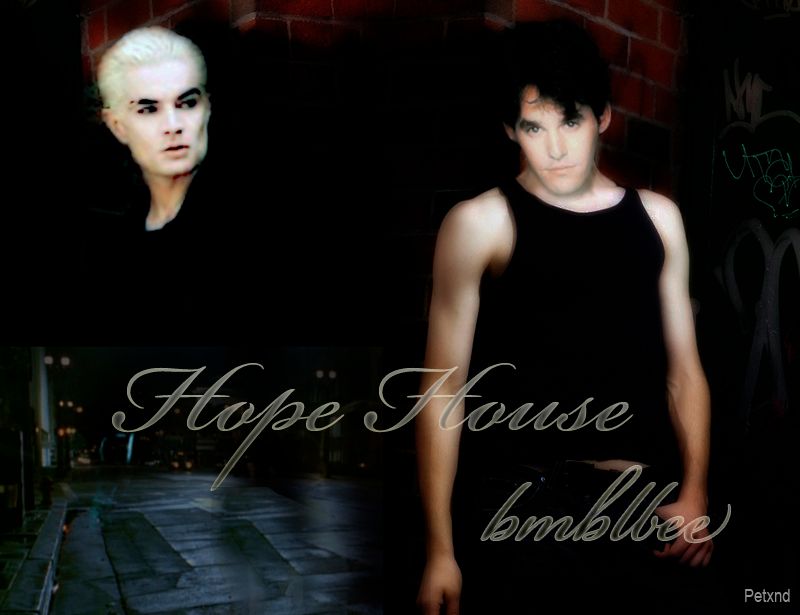 As always, kudos to Petxnd for the wonderful banner.


Willow dragged herself across the wide, vast, perfectly manicured campus
of the College of Slayers. Like every day of the past year, she was exhausted.

As soon as they had all arrived in London, still worn and frazzled from the
battle with the First, they had begun establishing an organization that would put
the meager Watcher's Council of the past to shame. They had to move with
speed and purpose to prevent any rogue demon factions from believing they
could fill the void of power. There had been no time for finding their feet or
catching their breath.

Within the first days, a small, defunct, private boarding school had been
purchased on the coast of Northern England with the seemingly unlimited
funds supplied by all the governments around the world and they set up
housekeeping.

Giles, as head of the new Council had seen to the elaborate security that
turned the small campus into an armed compound and worked day and night
to staff it before the task of collecting newly revealed slayers could begin.

Several of the original players in the production of the saving of the world were
recruited and rewarded with key positions. Willow was given the job of
setting curriculum at the college. Dawn was to organize and run the housing
units, overseeing their remodeling, maintenance, and upkeep while constantly
being reminded of the time restraints.

Buffy was in charge of training the new slayers, which considering none had
arrived for the first three months, gave her free time which she took full
advantage of. Her partying and drinking became the hush hush talk of the
campus. Giles chose to look the other way. He had more pressing issues.

The gossip suddenly switched gears when around month four, Riley Flynn
was called in to oversee the establishment of the security force that would
protect the residents and staff of the training academy.

Under the assumption that the assignment would only be short term, Riley
had left his wife and two small children behind in the states. Within two weeks
of his arrival, Riley had moved into Buffy's apartment and his suitcase was
unpacked and tossed in to a closet.

Andrew was Giles assistant and fancied himself a Watcher in training. He was
the only one who made that assumption. He was, however, invaluable. Giles
had quickly realized that the young man had a memory for facts and figures
that was unmatched and from the beginning, the two were never apart.

Early, during the fifth month, the slayers began to arrive. From all corners of
the planet, speaking a variety of languages and displaying a diversity of size
shape and color, they began filling the housing units and classrooms.
The campus came to life.

It had been overwhelming and draining. On a good day Willow was just
tuckered out, on a bad one she was completely broken down and reduced to
tears. But now, on the one year anniversary of their arrival, she finally felt like
she was finding her rhythm.

Most of the instructors were handling their classes and students well and
they had all learned from early mistakes what worked and what was a
disaster.

Willow was now able to focus on her advanced magic classes and she found
she actually had some time for herself. By 7 p.m. she could leave behind
the world of the supernatural and creep back to her small private cottage
at the edge of the compound. She would fix herself some soup and a sandwich
and feed her cat.

Lately, the free time had allowed her the luxury of reflection. Moments to sit
in the dim quiet of her cozy rooms and think about the contrast of then and now.
Today was one of those days.

Willow looked at the calendar that hung on her kitchen cupboard as she poured
a cup of steaming tea. Zipper, her sleek, black cat purred as it rubbed against
her ankles, hoping for a little attention and a bite of tuna.

"No, Zip. You were just fed. You're getting too fat."

Willow tried to sound firm, but they both knew she would give in. After she
did, she returned to look at the circled date. One year. 12 months that seemed
like centuries. They had all come so far so fast from the days of carefree fun and
youthful innocence in Sunnydale.

With a feeling of guilt, she thought of the other things she had left behind. The
people she loved and hadn't had much more than a fleeting thought of over the
past months.

"Xander."

His name sounded foreign on her tongue. For years she had said it a dozen times a
day, then, not at all. She remembered the day they were scheduled to leave. It was
all decided so quickly she didn't have time to pack and run to his place both so she
called. His father said Xander didn't want to go but Willow knew what an ass
Tony Harris was.

She told Buffy about her concerns but Buffy said she went to see Xander and
he told her the same thing. Willow sighed. What else could they do? They
left him behind. On the long flight over, she was conflicted, bouncing between
being angry at him for refusing to come and sad that he would abandon her like that.
She had believed they would always be together.

Suddenly, with a smile on her face, Willow set down her cup. She was going to
do what she should have done a long time ago. Settling into her easy chair,
she grabbed up the phone and after struggling to remember the number, she
called.

"I'm sorry. The number you have reached is not a working number. If you
feel you have reached this recording in error, please consult directory assistance."

Willow scowled. She was certain she had dialed right. After clearing the line,
she dialed the international operator.

"What city?"
"Sunnydale California, USA."
"Yes Ma'am?"
"Do you have a listing for Anthony or Alexander Harris?"

After a brief pause, punctuated by the haunting strains of "Autumn Leaves"
the operator returned.

"No, Ma'am. There is no listing for either of those parties in Sunnydale California."

Willow was confused and disappointed.
"Oh, well, thank..."

The line went dead.