Title: HOPE HOUSE
42/46
Author: BmblBee
Paring: Primarily S/X with a very minor S/OCs.
Rating: NC17 Adult Reading
Disclaimer: The Bee has no claim on any of the characters or
products named in this story and receives no profit from anything.
Warnings: Adult language, Prostitution, Violence, strong sexual
content. NOTE: All the boys working in Hope House are over
the age of 18. The Bee does not do underage!

Summary: Long after the final battle of Sunnydale, Xander is
alone, his life in shambles. Is there anywhere he can go and anyone
who can give him hope? There just might be.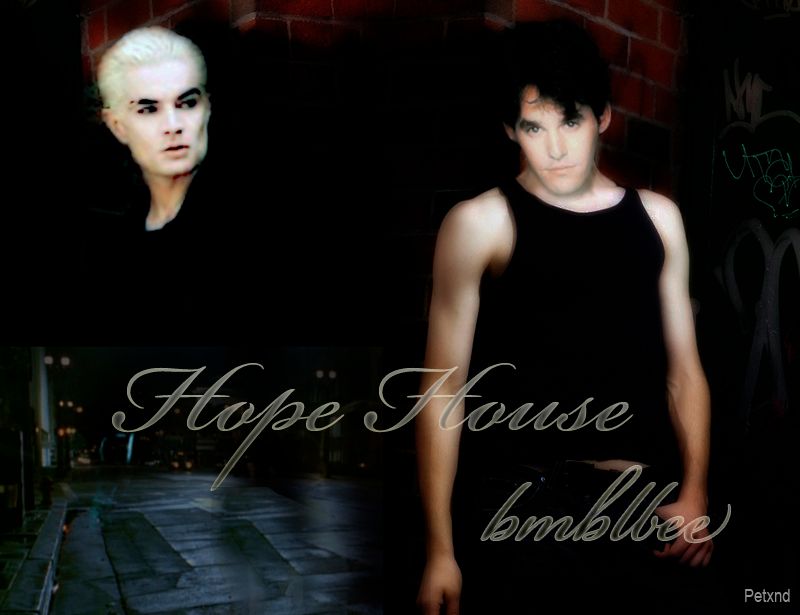 As always, kudos to Petxnd for the wonderful banner.


Spike was beside himself. He had driven all over the western edge of the city,
the docks and the scrap mills where prostitution was as big an industry as the
chop shops and drug smugglers.

He had found and checked with all his boys and stopped in some of the demon
bars but, it seemed, no one and no thing had any information on his missing boy.
One one hand, that brought him some slight relief. At least Xander wasn't
on the stroll. On the other hand, it may mean just the opposite.

A customer may have already picked the boy up and was, at this very minute
buried balls deep in Xander's warm, welcoming arse. It was that very
thought that has him pounding his steering wheel and bellowing his frustrations
out into the night air.

Deciding to make one more pass near the bridge where Xander had been found,
Spike spotted Andre, who apparently had the same idea, walking towards him.
Spike slammed on the brakes and squealed to a stop, sticking his head out the
window.

"Any luck?"

Out of breath, Andre leaned down and shook his head.

"Nothin'. No one has seen him for days. Not since the morning we found him.
It's like he just vanished as soon as he left the house. If he is on the stroll, it
sure ain't out here."

Spike's whole body went stiff. When the words, "as soon as he left the house"
left Andre's mouth, Spike knew. It was the only possible answer.

He had been duped.

"FUCK! SON OF A BITCH!"

Jumping back in the nick of time, Andre avoided being run over when Spike
threw the car in gear and left a trail of rubber on the highway as he spun in a
u-turn and headed back to the house.

It didn't take a rocket scientist to know that two and two added up to Xander
Harris playing the good guy one last time and the solution of four had to be stamped
on Jack's forehead.

Spike's foot pressed the gas pedal flat to the floor as he rocked back and forth in
the driver's seat willing the car to go even faster, all the time muttering angrily to
himself.

"Goddamn you Xander. Why couldn't you trust me? Why couldn't you believe
me just this once?"

It wasn't fear that Jack would escape that had Spike so frantic. Jack was
inconsequential. Even if he did get out of the house, there was nowhere that
he could go that Spike wouldn't find him. Every demon in town knew Jack
was Spike's property. No one else would touch him. Spike would have Jack's
life this time.

No, the driving fear in the vampire came from the knowledge that if Jack were
gone and Xander and Mrs. Gessel were alone in the house when the Wendeego
arrived, all hell would break loose. They were not what Wendell wanted but he
would slaughter them in frustration at the abscence of his newly purchased
property.

In his rush out of the house, Spike had completely forgotten to take Jack to
the pick up spot in the basement. The Wendeego, when he did not find his
new playmate in the designated area, would be free to wander through the
house, horny, hungry and angry.

Spike looked at the small illuminated clock on the car's dashboard. It read 8:45.
Wendell's pickup time was 9:00 and Spike, even driving like a vampire bat out of
hell, was still 20 minutes from home. Swallowing back a whimper, he took the
next corner on two wheels.


Slowly, Xander returned from the black pit of unconsciousness to the painful
awareness of the real world. He was stretched out flat on his back and for
a brief nanosecond, he thought he was back in the clinic and Mrs. Gessel would
be bringing soup and a sponge bath.

The second the mental picture of the pudgy housekeeper entered his mind, it
morphed into the last time he had seen her and he remembered.

She was dead. She was cold, bloody, unmoving and dead.

Xander's eyes popped wide open and he flinched against the splitting pain
that shot from the back of his head to settle behind his eyeballs in a searing
pool of ouch. When his vision cleared, he looked around.

The room was dim, damp, bare wooden walls and cement blocks. It smelled
musty and was silent as Spike's old tomb. Xander was no genius but he knew
a basement when he saw one. Then things went from bad to worse.

When he attempted to feel what must be a coconut sized lump on the back of his
head, Xander was then hit with the realization that not only was he lying on a flat,
hard mat in a stinky cellar, but he was apparently chained down. His wrists and
ankles were all cuffed, locked and tightly bound.

He took a deep breath and tried to arrange his thoughts into a cohesive, logical
picture. He sighed. No matter what angle he examined the situation from, it all came
back to the same thing. He had fucked up. Again.

"Well, I gotta say, I'm disappointed."

Xander's body jerked at the sound of the voice so near him. His restraints clanked
and strained as he attempted to twist and turn around to face his attacker. Although
to be honest, he already knew.

"Jack"

Jack walked around so that Xander could see him easily. He hiked up the sagging
sweatpants and grinned broadly.

"Yep, it's me. Gotta say, you surprised me. I figured you would be screamin' and
pullin' on your chains and all sorts of crazy shit. I know I do when that fuckin'
vampire sticks me down here."

Xander lay silent and unmoving, his eyes never left the other boy as Jack slowly
circled the bottom of the bed. Gradually, Jack's grin slipped and his brow wrinkled.
He stopped at the foot of the bed and smacked Xander soundly on the leg. This
wasn't what he wanted. He wanted to hear sobs and pleas for mercy. He wanted
to hear this one beg for his life. Jack wanted this interloper to know fear and terror
before he died.

"So how come you ain't scared? Don't you know that you are swimmin' in a whole
shithouse of trouble? What the fucks wrong with you?"

Xander shrugged, as much as the straps would allow.

"Been in worse."