Title: THERAPY
6/17
Author: BmblBee
Paring: S/X
Rating: Adult NC17
Warnings: M/M sexual situations, adult language, reference of violence.
Disclaimer: The Bee owns nothing in this world but her own peace of mind.
I have no claim on any of the characters or products named and make no profit
from my stories.

Summary: AU (Human? Vampire?)
This is the simple tale of a successful psychiatrist with a busy practice.
Dr. Alexander Harris lives and works in the rich and colorful area of the Florida Keys
and everything about his life seems right on track. Then, one day a man comes to
him for help. He is troubled with a history of violence that he hopes therapy can
teach him to control. Clear cut? Maybe not.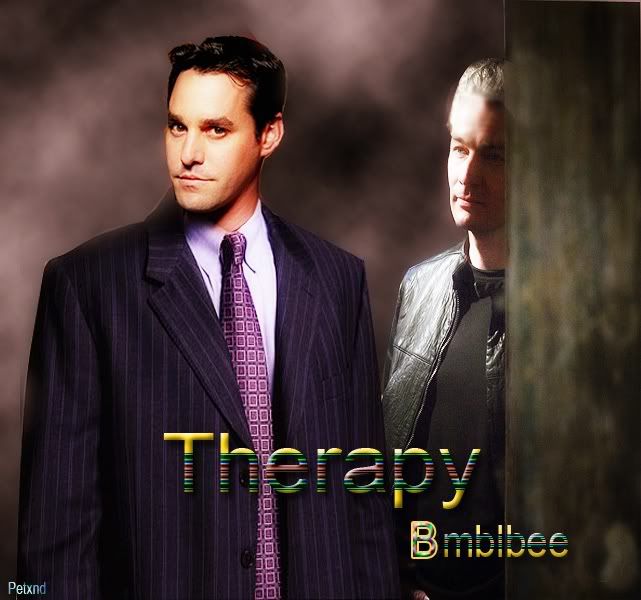 As always, thanks to the wonderful Petxnd for the amazing banners and loyal friendship

"Morning, Doctor H. You ready for a cup of coffee? I also stopped
off at the bakery and got some.........Oh, my, Doctor Alex, you look
terrible. Are you sick?"

Alex tugged loose his tie and unbuttoned the top shirt button. He knew trying
to come in this morning was a mistake and was man enough to admit that
there was no way he was going to be able to see patients in his present condition.

"Yes, I seemed to have picked up some sort of flu bug. I thought I would feel
better once I got here, but I just don't know. How many patients have we got on
the calendar for today?"

Iris made no attempt to check the schedule.

"There is no one that can't be rescheduled. Now I'll make the calls and you take
your butt right back home and into bed before you make all of us sick too.

Alex smiled weakly at her scolding concern but when she turned to leave his
office he called her back.

"Iris, before you call the patients, would you call Doctor Jack Everett and see if
he has some free time to see me this morning?"

Iris tried not to show her alarm at the telling request and she nodded briefly. In all
her years with Doctor Alex, she had never seen him look weak or less than confident.
Whatever was wrong, was very wrong.

"You just sit tight. I'll buzz you when I get through to him and then you need to
scoot on out of here."

"Thank you, Iris. For everything."

The loyal receptionist choked back her response and she hustled off to the outer office.
She was determined that short of death, no excuse Doctor Everett could come up with
could trump her doctor's need for time.

"Alex, My Boy, please come in. Come in. I was pleasantly surprised when your
girl called me."

Alex chuckled. He would love to see the expression on Iris's face at being referred
to as 'your girl' It was funny, but just being here in his mentor's office boosted his
mood considerably. Like a beloved father figure, it was where he came for
help and answers. He was the man, all those years ago that found and saved him
and he was the stability that Alex still clung to even today.

Marching forward, Alex extended his hand and shook Jack Everett's. It was more
about needing to feel a physical connection than a greeting and from the expression
on the older man's face, he clearly understood that.

"I really appreciate your taking the time to see me, especially on such short notice."

Jack waved his hand poo pooing as though he had nothing more important on
his daily log than shining his shoes and sharpening his pencils.

"Don't be silly, Alex. You know I always have time for you. I was hoping this was
a social call, but I can see by the bags under your eyes that this is much much more.
Why don't you sit down and tell me what is going on. Would you like some coffee?"

Alex settled into the comfortable, familiar leather chair. He had, over the years
spent many a soul searching hour in this chair and just the feel of it inspired
confidence.

"No, no coffee. My stomach is a bit shaky this morning. Look, Jack, I'm not
going to waste your time by beating around the bush. I feel like I'm in trouble.
The nightmares are back and I'm drinking again. I can't put my finger on it
but it's as if there is a dark cloud that has settled over my head and at any
time now the storm is going to explode."

Doctor Jack walked around his desk and he sat in the chair directly across from
his friend. He reached out and placed his hands on Alex's knees.

"Why, Alex? Why now? What was going on when all this started? Do you
have any idea what triggered it?"

Alex's face scowled in concentration. It didn't make sense but his gut told
him that somehow the story Spike had told him had played a part. It sounded
stupid and, for a moment, he considered disregarding it, but years of practice
told him that free associative thought, just saying everything on your mind,
would be an important tool in finding the answer.

"I have a new patient. A man. He came to me with anger issues and a history
of violent relationship problems. At our second session he was able to open up
about an incident in which he attempted to rape a woman that he was in a
disfunctional relationship with. It was a common enough story, the kind we
hear all the time but for some reason, as he spoke, I could almost see it happening
in my head. I could feel the sickening fear she was feeling and the regret and
shame that still haunts him. As much as I tried, I couldn't detach. It was
frightening. When the session ended, I went home and got drunk."

Doctor Jack studied his young friend's face as he spoke. To be honest, he was
surprised that this hadn't happened before. There were too many unknowns
and inconsistencies in Alex. He was strong, stable and a good therapist, but
years ago, he had been none of those things.

"Are you still taking your meds?"

Alex's head bobbed up and down.

"Yeah, I don't know. Sometimes I think that after all these years, I don't need
them any more, but I'm afraid if I stop, reality will start to slide away. I just..
I can't let that happen. I can't be......"

Jack patted Alex's leg.

"I think that's best. Now, this patient, obviously something about him or the
story he told you, has struck a familiar chord. When we first found you and
you were hospitalized, you talked about your parents. We talked about
their alcoholism and abuse. Could that be it? Was your father ever sexually
abusive to you or your mother?"

Alex snorted in disgust.

"No. He was an asshole but he never did that. Shit, he was so sloshed
most of the time, I doubt he could even get it up any more."

"Then I think we can look in another direction. How are you doing socially?
Have you made any progress on your relationship issues? You know, Alex
that being gay is not a psychological disorder. It is a perfectly normal and
healthy way of life. You are what you are."

Alex laughed.

"Do you know how many times I have told a patient exactly that? Professionally,
I understand that what you are saying is the truth and I have had a few dates, but
it is still the same as in the beginning. I feel like I am committed to someone
already. The only problem is, I don't know who. I feel like an airplane circling
the runway. I'm in a holding pattern."

"Sometimes, Alex, doctor and patient just don't jive. Perhaps you should
refer this man to another therapist. Maybe Helen........"

"NO!"