Title: THERAPY
12/17
Author: BmblBee
Paring: S/X
Rating: Adult NC17
Warnings: M/M sexual situations, adult language, reference of violence.
Disclaimer: The Bee owns nothing in this world but her own peace of mind.
I have no claim on any of the characters or products named and make no profit
from my stories.

Summary: AU (Human? Vampire?)
This is the simple tale of a successful psychiatrist with a busy practice.
Dr. Alexander Harris lives and works in the rich and colorful area of the Florida Keys
and everything about his life seems right on track. Then, one day a man comes to
him for help. He is troubled with a history of violence that he hopes therapy can
teach him to control. Clear cut? Maybe not.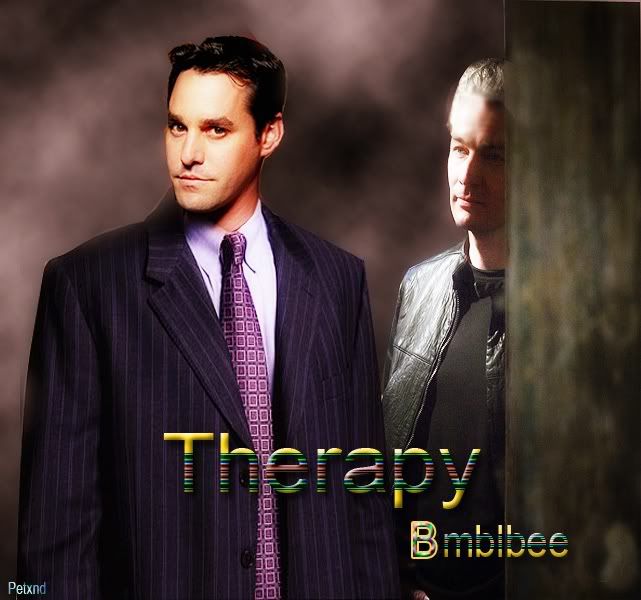 As always, thanks to the wonderful Petxnd for the amazing banners and loyal friendship

Jack Elliott stood by the long, well appointed wet bar in his elegant media room
and he poured himself another glass of wine. Although he knew the protest
would be pointless, he had to give it his best shot.

"Please, Margaret, no. I swear, we have been to at least a dozen dry, boring white
tie fundraisers already this month. I swear if you drag me to another one I will be
forced to drop my pants and moon the entire Ladies Benefit League right in the
middle of the hotel lobby. What's the cause this time anyway? Save the snails
or protect and preserve the endangered purple belly sparrow?"

Margaret Elliott laughed at the thought of her straight laced husband displaying his
well toned and tanned behind in front of all the stuffy, sexually repressed snobs at
the high society settings. She doubted that they would protest quite as much as
Jack imagined. It was an amazing backside.

"No, Smart Ass. It is for the benefit of the restoration of the Macton Opera House.
Now, even you have to admit that is worth a night of smiling and pressing the flesh."

Jack groaned. He knew when he was beat. Nothing short of an earthquake, which
never happens in Florida, would save him. It was one of the things he missed about
living in California.

"Yeah, fine, give me a few minutes to shower and....."

RINGGGGG

Jack paused and checked the caller ID before picking up. He saw his wife's warning
glare and ordinarily would have simply walked on past, allowing the answering
machine to retrieve a message. When he saw the name and number on the display,
his body tensed up and from his expression, Maggie Elliott knew she would be
attending the dinner alone.

"Sorry, Honey, I need to take this in the den."

Clutching the phone in his hand, Jack made a hasty retreat and Maggie headed off
to dress. It was the curse that went along with being the wife of a highly successful
psychiatrist and she accepted years ago that you take the good with the bad.

After closing the door to his den, Jack hit the green button.

"Hello? Yes, it has been a long time. We are fine, thanks, and you? Good, good,
but I know you haven't called after all these years just to enquire after the health of
my wife and I so what's happened?"

Jack listened with a growing, sickening dread as the caller explained the strange turn
of events. He ran his fingers through his thick hair and he paced back and forth
across the room as the voice on the other end continued. When he thought he had
the gist of it, he had to interrupt.

"And you are just calling me NOW? You didn't think I should have been given a
heads up earlier? What the fuck is going on over there? Don't you fucking people
know what the consequences of this could be? No, no, I realize that. No, I don't
blame you it's just that this is so.........Damn. It's been so long. Why is this
happening now? So what are you doing about it?"

Jack listened as the caller continued and when his legs threatened to give out, he
finally dropped down in to his chair. When it was his turn again to speak, his voice
was quiet and resigned.

"I think that was just about the worst thing you could have done. Why didn't you
trust me to handle this? I should have been consulted. I should have been the
one to.........no, you don't need to remind me that you are in charge. I hope you
will also be the one to take the blame when this little plan of yours explodes. If
you're wrong......if I'm right.....well, let's just say that you will never get what you
need. Then we are ALL fucked."

With nothing more to say, the caller hung up leaving Jack Elliott holding a dead
phone line in one hand and frantically searching through his desk drawer looking
for the Tums with the other.

Twenty minutes later, Margaret stuck her head in her husband's den. She was
dressed in a red gown he had never seen before and he knew this evening was
more important to her than she had let on.

"Everything o.k?"

Jack looked up and she suddenly saw every one of the 61 years reflected on his
haggard face.

"Yeah, sure. It's all good. I just need to make some calls. I'm really sorry to
stand you up like this."

Margaret smiled. After thirty years of marriage, Jack never could lie to her but this
time she would not call him on it. Whatever this was, he did not want her involved.

"No problem. I called Betty Webster and she is going to swing by and pick me up.
I won't be late. I love you Jack."

Jack Elliott put on his best face and gave a small wave as his wife left and closed
the door behind her. When she was gone, so was the smile and Jack again picked
up the phone.

"Hello?"

"Alex? Hi, It's Jack. I was a little concerned about you after our talk earlier
and I just thought I'd call and see how you are."

Xander sobbed.

"Jack. Jack, I don't know what's happening to me. I think I'm cracking up. It's
that patient. The one I told you about, I feel like I'm getting pulled into his problems.
I can't separate. It's as if I am seeing the world through his eyes and I'm getting lost."

"Christ, Alex, I told you to refer him off. Listen to me, STAY AWAY FROM
HIM! Do you hear me?"

"I don't know. I don't think I can......"

"Alex. Is he there? Are you alone?"

Xander's small inner voice of selfpreservation whispered at him to stay mum on the
dinner and especially the kiss. There was no way Jack would understand it if
Xander himself didn't.

"No, Jack, of course he isn't here. I'm alone. I'm always alone. I'm so tired
Jack. I just want to sleep."

Jack Elliott was alarmed at the resignation and defeat he heard in his young
friends voice. It was so reminiscent of the early years. The years after.

"Listen, Alex. I don't know what's happening, but I promise we can fix it. Do you
still have those sleeping pills I gave you? The strong ones? Good. I want you to
take two and go to bed. Don't answer the phone and don't let anyone in. I am
going to call Iris and have her reassign your patients for the rest of the week to
Dr. Nash. You come to see me tomorrow afternoon and we will try to get to the
bottom of this."

Xander sniffled and nodded. He thanked his friend and hung up the phone. He
then curled up in a fetal position in the corner of his bedroom and he closed his eyes.