Title: COUNT LUFFTON
12/26
Author: BmblBee
Paring: S/X, AU
Rating: Adult NC17 for language and M/M sexual content.
Disclaimer: The Bee owns nothing including the characters and
products named in this story.
Warnings: Sex, violence and character death. Yes, the mouse
dies.
Summary: This story is a followup to Mouse but it is not necessary
to have read it. Xander brings Spike home to kill a mouse.
The mouse escaped and Spike stayed for the fun, games
and conflicts that S/X always get up to. One night Spike
gets more than a little drunk and does something stupid.

Comments: The last few stories have been drama and trauma. I felt
we needed some lighthearted fluff, comedy and stupidity.

Thanks to: Petxnd for her preread and suggestions and to Silk Labyrinth
for her betaing of boo boos. It should be noted that if any
irregularities remain it is due to the Bee's bullheadedness.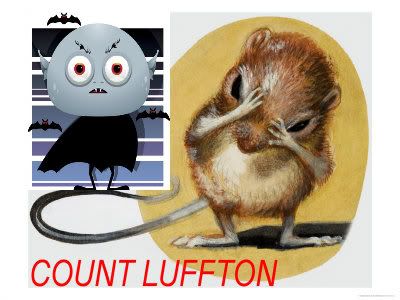 Now freed from the fangs and claws of the insidious monster and clearly
betrayed by his own lover, Xander leapt from the bed and rushed backward,
stopping only when his retreat was halted by the bedroom wall.

When it was clear that as much space as possible divided them, Xander stared
in horror as Spike continued to pet and purr over the slimy, weasel-like creature
with the blood-red eyes and swishing tail.

"What the fuck, Spike? I mean seriously. What the fuck?? That better not
be what I think it is. Is it, Spike? Is that a fucking vampire mouse? Was I
just bitten on the ass by a vampire mouse?"

When he had satisfied himself that his fledge mouse had not been injured in the
human's attack, Spike placed the mouse lovingly on the pillow beside his.
He then turned his attention to his irrational lover and attempted to do some
damage control, hoping Xander would listen to the simple explanation and
possibly even see the humor in it.

"Xan, listen, it's not what you think."

Xander stood as far away as he could, his arms crossed over his chest and his
faced screwed up in an expression of pure disgust.

"What I think is that you have a vampire mouse living in my house. Even knowing
how much I hate mice, you brought one home and you........OH...MY...GOD!
You didn't bring him home, did you? You turned the little fucker right here!
In my house! Did you do it in my bed? Please God tell me you didn't turn him
in my bed! That's like an animal perversion, Spike! That should be filed under
'E' for EEEWWWW!!"

Spike sat up in the bed and sighed as he waited for his human to run out of steam.
Although he kept his eyes on Xander, his finger idly poked and played with a
happy, scampering Luffton who would crouch, leap, wrestle with the digit and then
quickly retreat, planning the next faux assault.

When Xander seemed to have used up his supply of insults, Spike decided to try
to interject a little reason into the conversation.

"OK, first, no, we did not do the deed in your precious bed, which incidentally, I
thought was our bed, but I guess I was mistaken. And secondly, there was no
intent to offend you. Not everything in this world is about you, Xander. Truth
is, I was a tad drunk when I got home and, although you walked right past me
and never noticed, I was a bloody mess from the demons who tried to dust me."

Xander's arms unfolded and he took a small step forward. He was well aware
Spike could slather on the guilt like peanut butter on a bagel yet Xander fell for it
every time, and as hard as he tried to hold on to the anger, the thought of almost
losing his vampire sent cold chills up his spine.

"Look, I'm sorry. It was dark. I thought you were just sleeping. I didn't see
any injuries or I would have done something. Shit, Spike, are you all right?"

Spike waited with an expression of martyrdom as the boy made his expected
apologies, but as he listened to the words ramble on, something caught his eye.
Something with implications so monumental he couldn't even conceive of it.
As the boy waved his arms in explanation, the moonlight hit them and an
odd discoloration showed itself on the surface of his skin.

Bruises.

There were dark, finger-shaped purple contusions beginning to form in the
exact spot where Spike had held the boy down just moments earlier during
their sex play. But that wasn't possible. A grip that would leave marks
like that must have been painful, and the chip gave no response. Spike was
stunned. He was shaken to his absolute core. On the inside. Outwardly,
he remained calm and detached. This was something that he would explore
later. If true, disclosure could be disastrous.

"SPIKE! Damn. You could at least pretend to be listening!"

"What? Oh...."

Spike did his best to stamp down his excitement as he slipped on his mask
of misunderstood victim.

"It really was a mistake, love. I was drunk. When I saw him, I only intended to
kill him because I knew you hated him. I was doing it for you, Xan. Anyway,
I bit him and drained him and fell asleep. All I can figure is that some of my
blood dripped into his mouth and bingo! Vamp mouse."

Spike dramatically waved his hand over the rodent as though he were a stage
model pointing out a new washer and dryer on The Price Is Right. Xander
squinted and took another step closer to get a better look at the odd animal
that by now was lying on its back, legs high in the air as Spike scratched
its tummy.

"Well, yeah, I can see how I may have to accept some of the blame in this.
I mean if I had set more traps he would never have gotten in here and this
wouldn't have happened. We should have taken precautions, Spike. We
should have known something like this could happen. But I guess what's
done is done. Just dust him and we won't mention it again."

Spike looked at the boy in horror.

"That's it? We just kill him? Weren't his fault he was brought into this world as
a vamp. He didn't ask to be reborn. I thought you and me were a couple but I
can see I was wrong. This is a big responsibility, Xan, and I won't turn my back
on him like some people whose name I will not mention. No, if I have to, I'll raise
him myself!"

Somewhere in the back of his brain, Xander could hear a far-off voice pointing
out the absurdities of this fiasco, but the stronger, Xanderman part of him knew
Spike was right. Because of their recklessness, an innocent childe had been
brought into the world. The only question was, could Xander and the rodent
live under the same roof? As much as the very thought gave him the willies,
Xander knew if it meant Spike staying or going, he would have to consider
the options carefully.

"No. No, I can't say I'm totally on board but I guess I can....."

"GREAT!! Now come on over and meet him. He really is cute. His name
is Luffton and I swear, when he vamps out, he has my eyes."

Spike patted the empty space in the bed for Xander to sit. As the human eased
over, Luffton stopped playing and he glared at the intruder. His eyes flashed
red and his lip curled up causing Xander to "Eep" and again step back.

Spike took the interaction as encouraging and he bopped the mouse on the top
of the head gently as he chuckled.

"Now stop that you bad mouse. That's Xander. We like Xander. Xander lives
here and brings us blood and warms our bed. Xander is very special to us."

Xander smiled weakly at the praise. He edged a bit closer as he was reminded
of playing Mother May I as a child. Xander was taking the smallest baby steps
his oafish feet could manage. When he reached the bed, he refused to come
any closer.

"How do I know he won't jump on me? After all, he did bite me on the ass and
steal blood and frankly, stealing ass blood without permission is just rude, Spike."

Spike scooped the critter up and held him in the palm of his hand. Luffton took
this as an invitation and he sank his fangs into his master's thumb and began to
leisurely suckle. Spike flinched as the teeth pierced the skin, then watched lovingly
as his mouse fed.

Xander's reaction was less paternal. He was repulsed. Revolted and disgusted.
But, surprisingly, the emotion that most centered itself inside him was jealousy.
He was envious of the little mouse that now held all of Spike's attention and
affection, and Xander's eyes narrowed to slits. This would not do. This would
not do at all.